Service Learning while Abroad – Photographing Unique Handmade Products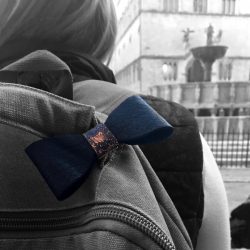 Written by: Gabrielle Sherman, Umbra Rep Fall 2018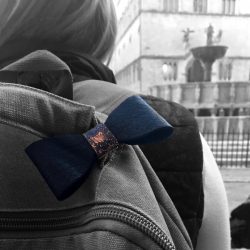 Photo credit: Callie Cinque
My Introduction to Photography class at the Umbra Institute's just concluded one of our service learning projects. We were learned about advertising and how to take photographs that market products for companies. An organization that is based in Perugia called, Re.Leg.Art, welcomed us into their work space. Celebrating their 30th anniversary at the end of this October, Re.Leg.Art is a small social co-operative that trains workers with special needs as well as refugees, to make hand leather goods and hand-bound books. They promote enthusiasm, love and perseverance in their employees and encourage them in working environments, allowing them to find their own creativity to produce different products! By offering these opportunities to their employees, they see no difference in the people they are. All of Re.Leg.Art's employees are committed to working extremely hard, which shows in their outstanding consistency and craftsmanship. The employees find a lot of joy in working for this company as it allows them to freely express their ideas and therefore, gives meaning to their job!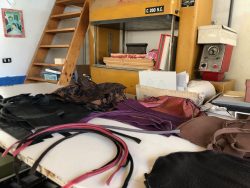 When we visited the Re.Leg.Art sight, we were greeted by Roberto who has been with the company for as long as it has been standing. We were able to see all the machines and materials that go into the products they make. Everything is handmade and individualized with different materials. For this reason, quality is a priority for them. Products are produced on sight with real leather! Most of the employees choose when they want to work, but almost all of them like to work all the time as it is very rewarding to produce products for other people! Roberto is mainly always at the shop with the owner, Silvia Romaniello, and he, along with many of the other staff, model the products for advertisement.
We were encouraged to look into the handmade leather goods to see which product they would like to advertise for the company. After picking from a selection, our professor, Philippa Stannard, taught us how to take pictures of articles such as bow ties, leather notebooks, picture frames and eyeglass cases. We learned to use the city of Perugia as a background in most of these photos. We were able to place items in various places throughout all different times of the day. The main goal of the our assignment is to photograph the handmade goods to promote the company's initiative, MADE IN ITALY creations. A personal favorite for me and all my classmates was being able to see the pure joy that creating these items gave the workers!
Learn more about our Courses with Service Learning here.​