Sun and Sea
Last Friday, 43 students and 3 staff members boarded a coach bus and headed to the South of Italy for a weekend on the coast.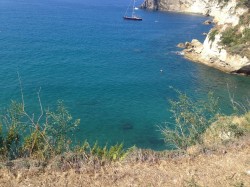 First stop? Pompeii, where students listened to expert tour guides tell stories about a thriving city forever frozen in time as a result of Mount Vesuvius's eruption in 79 A.D. After lunch, it was back on the bus to Naples, where students experienced a bumpy ferry ride to the island of Ischia, the base for the weekend's travels. The long journey was well worth it – after a delicious dinner at a local restaurant (with swordfish on the menu), students rested up for the next day's adventures.
On Saturday, students caught another ferry to Capri; many sat on the top deck to soak up the glorious sunshine. Students had the day to themselves on the island. Some took boat tours of Capri's spectacular scenery, others did some shopping, and still others sipped on the island's famous "Limoncello." After a windier boat ride back to Ishcia, students indulged in a second delicious restaurant dinner with a delectable tiramisu finale.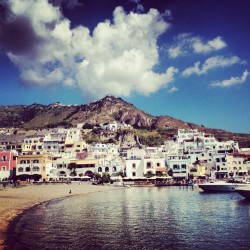 The last morning was devoted to a combination bus/walking tour of Ischia. This dramatic island boasts a variety of stunning landscapes, from rolling hills to turquoise waters. Our wonderful Australian tour guide stopped at three separate villages throughout the island, where students were given the opportunity to walk around, take pictures, and get a feel for the local culture. Ischia is famous for its thermal springs that many say have healing powers. While there wasn't time for them on this trip, many students declared that they will be returning someday for the experience.
By 3:00, the students were on a bus back to Perugia. A spontaneous sing-along kept spirits high as the students finally returned to their "home away from home."