The SoloItaliano Challenge: Umbra Students Declare "I Don't Speak English"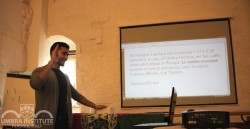 This week, Umbra students embraced an opportunity for full linguistic immersion by participating in the SoloItaliano Challenge. This initiative inspired students to voluntarily put their newly-acquired Italian language skills into practice outside of the classroom – and beyond the American bubble – for two entire days.
This semester, a total of 46 students participated in SoloItaliano. After taking a solemn oath (on their honor and the Italian dictionary) in the official ceremony run by the Italian professors; the participants received red bracelets that served as a marker and a reminder of their pledge.
Naturally, students expressed nervousness at the beginning of the competition as they stumbled through sentence construction and tried to pull vocabulary out of the air. However, at the event's concluding Tandem when students were told they could once again speak English, many boldly responded "No, non parlo inglese!" ("No, I don't speak English").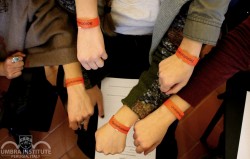 "[SoloItaliano] was difficult at first, but I wish it had lasted longer," one student remarked. "It was fun! My roommate and I spoke Italian all night last night," interjected another. Several commented on the fact that once they pushed themselves to speak Italian, they realized they were more capable than they had believed. 
An important aspect of this semester's challenge was that participants were intrinsically motivated. However, at the end of the two days, students were asked to anonymously nominate a peer they believed had tried the hardest and participated most honorably. The "winners" of SoloItaliano, as chosen by fellow students, were Karl Frentz (Italian 110) and Emma Ferrell (Italian 310).
Although Karl is currently enrolled in his first Italian language course, he is already notorious around Perugia for constantly communicating in Italian. He commented on his experience:
"Around the city, in restaurants, you know English isn't an option because locals don't speak it. SoloItaliano was especially difficult because you had to keep yourself from speaking in English even with friends you knew would understand you. You really had to think before speaking."
The SoloItaliano Challenge is a prime example of Umbra's commitment to education through extra- and co-curricular activities that promote immersion and community engagement. To learn more about Umbra's many academic programs and initiatives, Click Here!