Touring Perugia's Historic Side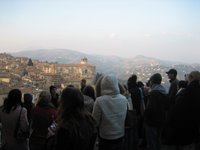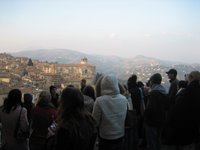 This past Tuesday night, thirty Umbra students were taken on a historical tour of the city they will be calling home for the next four months. The tour, usually given once a semester is led by professional tour guide and professor of one of Umbra's most popular classes, Perugia through the Ages. Paola Chiurulla, a Perugina herself, opens up the students' eyes to the marvelous history Perugia has. Starting at the Fontana Maggiore, students were find depictions of their own astrological sign, as sculpted by Nicola and Giovanni Pisano in the 1200s.
After hearing the history of other monuments in the center of town, Chiurulla leads the tour down to Perugia's Etruscan Arch or Arco Etrusco which dates back to 500 BC. They then follow the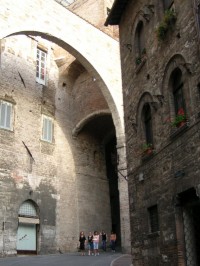 original walls around part of the city and ended up at Porta Marzia, one of the original entrances to Perugia. Chiurulla's class, Perugia though the Ages is a unique offering here at Umbra. Class time and on-site visits are divided equally as students learn about the history of Perugia concentrating on the 12th to 16th centuries.
Her tour is free and open to all Umbra students. This Sunday, another walking tour will be given by Umbra staff member Zach Nowak, author of The Umbra Institute Student's Guide to Perugia. Zach's tour offers students a less historical version of the town, including folklore and out-of-the-way vias that many Perugini themselves might not be familiar with. This tour is also free and all are welcome, but students should sign up with Zach to participate.
In photos: Perugia's Medieval arches; Zach's Walking Tour in January 2006