Umbra Alumna Brings Museum Studies into her Graduate Career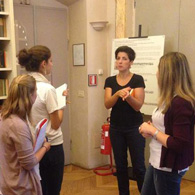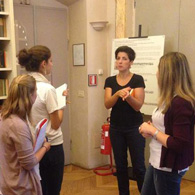 GLASGOW, Scotland — Umbra Institute (Fall 2014) and Roger Williams University (Spring 2016) Alumna, Christina Sargeant, just began her first week at the University of Glasgow where she will be pursuing a Masters in Museum Studies. Thanks to her studies at Roger Williams University, Christina discovered that her love for history and desire to preserve it could ultimately evolve into her ideal career path. This course of study inspired her course selection at the Umbra Institute, in Perugia, Italy, and ultimately, her search for a Graduate Program.
At the Umbra Institute, Christina enrolled in the Museum Studies Internship, which has since evolved into CESP 352: Museum Studies Seminar & Practicum. The Internship, like the Seminar & Practicum, was divided into two parts: the seminar, in which Dr. Antonella Valoroso guided students through disciplinary theory and personal reflection, relative to the historical and cultural functions of a museum; and the internship, or practicum, during which students worked directly with various partnered museums to get hands-on experience in their field of interest. In response to a brief interview, Christina shared, "I enjoyed the archiving work and assisting in the organization of textile artefacts, as it gave me a glimpse into what I might do in the preservation or the archivist department of a museum".
Christina chose the University of Glasgow primarily because of the way the students are taught there. She described the program as being relatively similar to the course she had taken at Umbra, "…though it is more in depth, including six lectures with coinciding seminars, instead of just one." In the end, Christina believes that Glasgow's program shares Umbra's philosophy of interactivity and community engagement. For example, while enrolled in a restitution and provenance course, she will be complimenting the in-class theory with her work in an exhibit at the Hunterian Museum. "I am building off of the foundation that Umbra provided me with as I increase my knowledge of the subject," said Christina in reflection as she described how her time at Umbra, which helped prepare her for the Masters program in Glasgow.
When sharing how studying abroad affected her career, Christina ended the interview by saying, "Going to the Umbra Institute opened doors for me in ways that I never expected and I can't describe how excited I am to start this new chapter of my academic career".
Thanks to her experiences at home and abroad, Christina is now looking forward to a successful year of hard work and study in Glasgow; due in part to her education but more so to her passion and dedication.