Umbra Professors Speak at American Academy Conference in Rome
The Umbra Institute has co-sponsored a conference titled "Italy's covered markets: history and contemporary re-use", held at the American Academy in Rome. Umbra professors Elisa Ascione and Alessandro Celani gave a joint presentation entitled: "The Covered Market of Perugia. A Contested Place Between Past Memories and Future Development".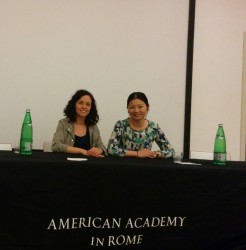 Their presentation explored how the covered market of Perugia has become a symbol of inhabiting the city, for both politicians and citizens: it is a key site that mobilizes cultural and political reflections and actions on the use of space and time in the historic center. Rather than being just a place where to buy and sell food, it is a field of social positions where groups imagine and transform their roles and agency, and negotiate their cultural landscape.
The conference, organized by Ruth Lo, fellow of the Academy and Phd candidate, hosted a number of leading scholars on covered markets in Italy.