Umbra's Didactic Garden: Local Partnerships Bring Italian students, Umbra's Interns and Refugees to Orto Sole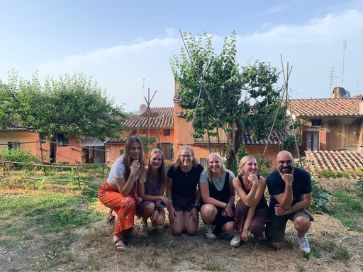 Umbra's Didactic Garden project is a core element of Umbra's Food, Sustainability and Environment program. The project keeps evolving and involving new partnerships and community actors: Italian students from the local university's Department of Agriculture, refugees and migrants from Tamat, and Umbra's interns all worked together in the last month to foster the rebirth of Orto Sole.
Intro to Orto Sole: a short story
Until recently, the Perugian urban garden known as "Orto Sole" was a mostly abandoned space on Perugia's north-facing hillside, just below the city's most famous panorama – Porta Sole. In fact, despite the efforts and amazing work done by local non-profit associations, the Garden remained a quite isolated spot, only known to few. Starting September 2021, the Umbra Institute assumed management of Orto Sole to revitalize the garden and develop it as a living laboratory for the Institute's Food, Sustainability, and Environment Program. Since then, many things have changed, many relationships have developed and many plants have blossomed! In this short article, we'll try to tell you more about this exciting re-qualification process which involves our Internship program and Umbra's partnerships with the University of Perugia's Agriculture Department and local NGO Tamat.
Our interns: thanks to Helena, Camille, Julia, Katy and Bianca!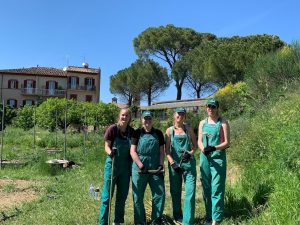 The Umbra Institute offers a competitive and fully hands-on Urban Agriculture Development Summer Internship Program. The program allows students to work on three different gardens, namely Umbra's didactic garden, the historic medieval garden of the University of Perugia's Agriculture Department, and the city's botanical garden. The core aim of the program is to put students in the position of co-developing projects of sustainability and environmental education for members of the local community. Partnership and coordination with local associations and institutions are, thus, a fundamental part of the experience. The work done by our Interns this past month has reached excellent levels of skill and results, and has been truly essential to Orto Sole's development.
Umbra's partnerships: the University of Perugia Agriculture Department and tamat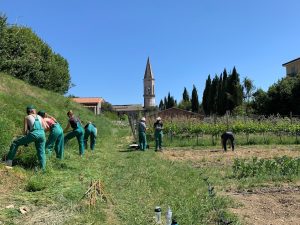 During the whole month of June, the Umbra Institute's interns went twice a week to a fifteenth-century monastic compound just down the hill from Perugia's historic center. The complex, begun around 1000 C.E., was the site of Perugia's first agricultural school and more recently became the headquarters of the University of Perugia's School of Agriculture. Eight years ago professors and students in the Ag School started the Green Team, a group of volunteers who built a two-acre community garden inside the monastery complex's walls. In addition to professors and Ag students, members of the surrounding Borgo XX Giugno neighborhood joined in the work of planting, weeding, and watering twice a week. Among the objectives of a community garden is producing healthy food, but another much more important goal for most urban gardens is producing community.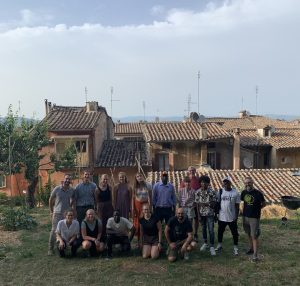 It was in this spirit that Professor David Grohmann and his colleagues of the Green Team invited Umbra's Orto Sole interns to join them each Wednesday and Friday in the garden at San Pietro. Umbra's students have worked beside their Italian peers, together with the older residents of the neighborhood; as they water the plants there, they soak in ideas about how to further develop Orto Sole and its "organic" connections to the surrounding neighborhood.
A great addition to the Institute's Orto Sole program has been the collaboration with local NGO ,Tamat. Refugees assisted by Tamat participated in the fieldwork alongside our students, under the supervision of Umbra's Director Zachary Nowak, PhD, and FSE Program Coordinator Manuel Barbato. Tamat is a non-governmental organization that works on food sovereignty and security, agro-ecology, and agriculture. Also, Tamat works to support the social and professional inclusion of refugees and migrant people in local practices and activities. We're glad Orto Sole had a role in this!
Want to know more about it all? Check out the first highlight on our Instagram Page to follow our interns' adventure!