Wine Tasting in Good Company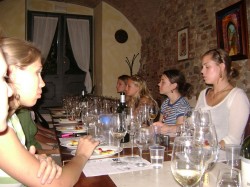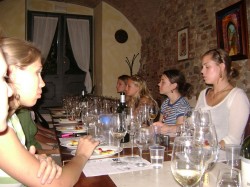 Monday night students gathered at Enone, a posh local restaurant and wine bar, for Umbra's first evening of wine tasting for the semester. Silvia Bartolini, a professional sommelier, taught students the basics when it comes to the art of enjoying wine. From the visual analysis to the olfactory analysis and then the final step of tasting, students sampled and critiqued three Italian wines each one unique from the other in color, flavor and region.
In addition to simply sampling and analyzing the wines, Enone provided a plate of appetizers to taste with each wine. Students were encouraged to sample tangy pecorino cheese, a light tuna spread with tomato and a rich polenta square with each glass of wine in order to decide which wine suited the food best, highlighting its best qualities.
Many students found that food isn't the only thing that highlights character in wine…but that good company does the trick too!
Picture contributed by Umbra Fall 2007 student Stephanie Pugliese from Villanova University