5 Reasons to Participate in Community Engagement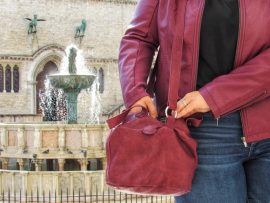 By Nicole Flohr, Lebanon Valley College and Umbra Rep Fall '19
Over 95 percent of Umbra students participate in community engagement each semester. Engaging in a meaningful way with the local community and Italian culture is one of the most rewarding aspects of studying abroad. Luckily, Perugia is the perfect place to get involved, and the Umbra Institute has many options available for students!
I have personally participated in many of these opportunities during the semester. I have loved getting to know the city and community better through my classes and service learning projects and have made some incredible connections and memories.
1. Make a difference in the local community
Community-based courses allow you to apply theory to field research and immersive activities. These courses also allow you to directly engage with community partners to make a difference in Perugia.
I am taking Placemaking, one of Umbra's community-based courses. In class, we discuss theories about community development, public space, and inclusive participatory processes. In the community, we are working with neighborhood associations to improve a local park, Parco Sant'Angelo. We have engaged with the neighborhood through forums, children's workshops, and community events.
2. Learn through hands-on experience
Community engagement is built into the curriculum at Umbra, which allows you to use the information you learn in courses and put it into practice in the local community. There is no better way to learn than through real-world experience!
I am taking two courses with a service learning project: Photography and Human Development in Culture. In Photography, we learned about marketing photographs before partnering with RE.LEG.ART. to take photos of their leather products, which are made by adults with special needs. These photos are then used for this organization's social media outlets. In Human Development, we visited a Montessori elementary school and lead an educational English activity at the local public middle school. These two activities allowed us to investigate and make sense of the principles and psychological outcomes of the various education system as well as compare them to the American school system.
3. Engage in cultural exchange
While engaging with the community, you can both share your own culture and learn more about Italian culture.
I volunteer at Liceo Scientifico Galeazzo Alessi, a local high school, as an English tutor. Each week I create a presentation about American culture and the English language to share with the students. I have learned a lot about Italian culture and Perugia from them in return!
4. Support a global cause
The Umbra Institute has many community connections and offers a variety of volunteer opportunities. No matter your interests, from sports to gardening, there is something for you!
Every Tuesday for five weeks, four other Umbra students and I volunteered alongside local UNICEF staff to create Pigotta dolls. We stuffed the dolls, drew on their faces, designed their clothes, and sewed on their hair. The cloth dolls are put up for "adoption," and the proceeds go towards the purchase of vaccin kits for children and mothers in need around the world.
5. Get to know the locals
Perugia is a great city to get to know the locals, from the produce sellers at the weekly markets to the owners of restaurants, gelaterias, and pastry shops. It is easy to meet new people even beyond community engagement opportunities coordinated through Umbra.
Because I am on the swim team at my home university, I wanted to find a pool in Perugia. Piscina Pellini offers semester-long memberships, which was perfect! Now, I swim every day before class with the same group of locals in lane 5. Although I am one of the youngest there, I feel welcomed and accepted and its really motivating to have people holding me accountable while I am away from my team. I am so lucky to have a little community at the pool that makes waking up early and working out enjoyable!
Piscina Pellini, where I swim with a group of locals every morning
Community engagement is a defining aspect of the curriculum and programming at the Umbra Institute. It certainly has defined my experience studying abroad. I will always remember the class time spent in the community, the wonderful women and students I met while volunteering, and the welcoming swimmers in lane 5!
One of my biggest pieces of advice for others studying abroad is to take advantage of the community engagement opportunities! Not only will you gain a better understanding of the culture and create connections with the community, but you will also grow personally.
To learn more about Community Engagement opportunities at Umbra, click here.