So the Students Become the Pizzaioli
Last night, students wandered down twisting streets to find Pizza e Musica, a hidden Perugia pizzeria that once served as a convent, and participate in the favorite Umbra Pizza Workshop.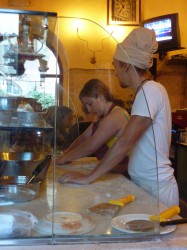 Umbra staff members Julie Falk and Laura Fronduti shattered more than a few preconceptions when theyrevealed that pizza is not of Italian origins (the Egyptians were all about leavened breads hundreds of years earlier) during their brief talk on pizza history and its significance to the Italian culture.
Students then explored the art of pizza, guided by Austrian pizzaiolo (pizza-maker) David. His audience ooh-ed and ahh-ed as David tossed the dough in the air and easily drizzled olive oil, painted fresh tomato sauce, and sprinkled mozzarella and basil — the makings of a classic margarita pizza.
"But here's the tricky part," David said as he reached for his padella, or pizza shovel (yes, that's what it's officially called), deftly scooped up his creation, and slid it deep into the recesses of the wood-fired oven. With the right wood — oak is popular, though olive is preferred — and level of flame, the perfect pizza may be cooked between 90 seconds and three minutes.
Not without trepidation, the Umbra students donned their pizzaiolo aprons, washed their hands, and let the pizza tell them what to do. Their self-made pizzas ranged from a basic caprese to Franken-pizzas with prosciutto, eggplant, and extra olive oil.
The warm evening ended with the surprise of Nutella pizza for dessert on Pizza e Musica's vine-encased veranda.