LifeinPerugia
Perugia
Study Abroad
Travel
University Life
A Future Umbra Student's Guide to Perugia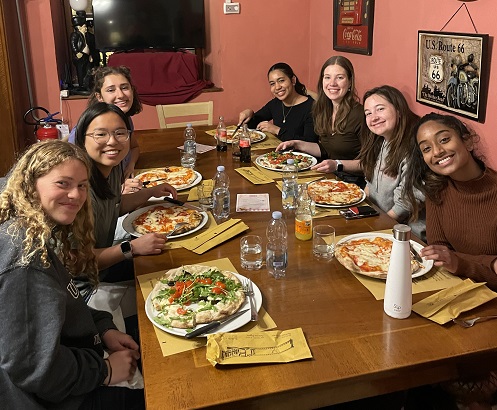 Exploring Perugia's Pizza Scene: Top Picks from Umbra Institute Alumni
This might sound a bit cheesy, but studying abroad, especially in Perugia, is an experience like no other as it is filled with enriching experiences that feed your mind, soul, and stomach. As a future student at the Umbra Institute, you're in for savory entertainment– literally! Exploring the city's vibrant pizza scene is a must, and here are some hotspots recommended by past students to satisfy your cravings:
Pizzerias to Sit Down with Friends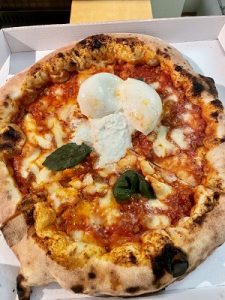 Verace: Experience Napolitano-style pizzas at Verace where former students rave about the Spicy Salami, creamy Bufala, and Margherita with burrata. It's the perfect spot to unwind with friends.
Mediterranea: Enjoy pizzas made from a forno a legna (wooden oven) and don't miss the Margarita pizza which is a must-try, with its classic combination of tomato, mozzarella, and fresh basil. For something heartier, go for the Salsicciae Patate (Sausage and Potatoes) pizza, the Capricciosa, or Carbonara. Finally, don't forget to indulge your sweet tooth with the Nutella Pizza for dessert (or dinner if you prefer)!
Ferrari: If you take a stroll down Corso Vannucci, you are sure to stumble upon diners, like Ferrari, where people get to sit outside and enjoy the city center. Ferrari offers a wide variety of pizzas that will delight your taste buds, from the classics to the renowned 4 Formaggi or 4 Stagioni or the inventive Caccio e Pepe-inspired pizza.
Grab-and-Go Slice Spots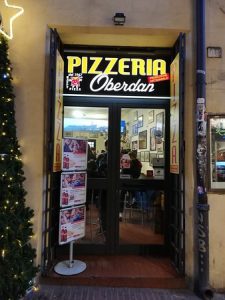 Pizzeria Oberdan (Happy Pizza): When walking to the Pincetto Minimetro station entrance, you will pass Pizzeria Oberdan, affectionately known as Happy Pizza, which usually has a line to the door (do not worry as it moves quickly and you almost always get a slice fresh out of the oven). This is your go-to spot for a quick and satisfying slice. Perfect for when you're on the move (and your wallet)! They also have delicious chicken wings if you feel like having a side dish to your pizza!
Pizzeria Reginella: Located right off of Corso Vannucci and within minutes from the institute, Pizzeria Reginella serves up speedy slices that you can easily take to eat on the steps in the main piazza while satisfying your hunger.
Pizzeria Marchigiana: Conveniently located within a minute's walk from the entrance to the Umbra Institute (and even visible from the windows of the student lounge). It's your go-to spot for both quick bites between classes and satisfying meals whenever you're craving delicious pizza. Their arancini are almost a must-try!
Finding your favorite pizza spot in Perugia will be an adventure in itself. With these recommended pizzerias in your back pocket, you'll be ready to satisfy all your pizza cravings! Buon appetito!