Complete the Application Form




Once you have determined your consulate of jurisdiction and made your appointment, you will need to complete an application to obtain your visa. The application varies from consulate to consulate—sometimes called a "Study Visa", other times called a "National Visa". Please refer to your consulate's website to obtain the application form but if you have a hard time locating or completing the form, please contact your ISI Abroad admissions advisor.
Submit your Application




Once you have completed your application form, you will need to compile the documents listed below and submit the form either by mail or at your consular appointment. Please note that the New York and Boston consulates do not allow for mail-in applications. When mailing your application, you will need to include a pre-paid express mailer with your application (ideally a trackable envelope).
Note: The list below is not exhaustive. It is important that you also consult your consulate's website for the most updated list of application items. This list includes only the most standard items required by most consulates.
Your Valid Passport
Two recent, passport-sized photos to attach to your application
Both copies of the acceptance letter
Proof of health insurance coverage (Affidavit forms vary by consulate)
Your flight itinerary or travel tickets with exact, round-trip departure and arrival dates
Copies of student or state identification or the original if applying in person
Proof of financial means, which may also be satisfied by proof of financial aid
Affidavit of Support—This document is only needed if your personal finances and aid do not cover the full cost of the program fee and living expenses. This form is typically provided on your consulate's website.
If you are supported by your parents/guardians, you will need to provide the following documents of support: 1) a notarized Affidavit of Support and/or 2) a bank statement(s) of the Affiant or a letter from their financial institution that verifies their account balance(s).
Some consulates may also request an original Letter of Enrollment from your home college or university. Please request this letter from your school's Study Abroad or Registrar's office. The Italian consulate websites will explain what the letter should include. Please provide an original letter signed by the Registrar or another university representative.
Mail-In Visa Applications
Some consulates will allow mail-in applications. In that case, the consulate will require you to provide return postage in a self-addressed envelope so that your passport and visa can be returned to you. We recommend that you select an envelope with tracked, expedited shipping and that you place your address both as the sender and receiver. The consulate of your jurisdiction will tell you the type of mailer to use, though they typically prefer the use of USPS.
---
Receiving your Visa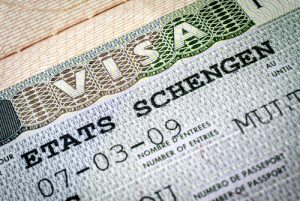 Your visa will be affixed to a page of your passport by the consulate. As soon as your passport is returned to you, open it and check the visa for errors. If the visa dates are valid for a few extra (or fewer) days than the length of your program, this is not an issue. However, if the dates vary significantly or if your personal details contain an error, you must notify the consulate immediately. They will cancel your visa and ask you to return it to be fixed. They will tell you how to return the visa and if any documents must accompany it. Errors are not common but they can take a couple of weeks to fix and may cause unwelcome problems with Italian immigration control.