Fair Trade Interns at Altrocioccolato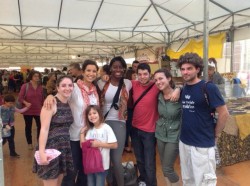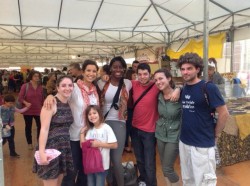 Umbria is known for its chocolate. Eurochocolate, a festival that brings chocolate-lovers to Perugia from all over the world, begins this week. However, this well-known event is not the only seasonal celebration of Perugia's favorite sweet – Altrocioccolato, a fair trade chocolate festival held in nearby Città di Castello, brings together producers to raise awareness of Italian and international fair trade projects. Umbra interns from INIT 350: Fair Trade Academic Internship & Seminar- Fair Trade, under the direction of Professor Giordana Pulcini, volunteered their time at the event from October 10th-12th.
Altrocioccolato goes beyond just chocolate; vendors selling fair trade products from paper to decorative ornaments set up booths and informational sessions educating the public about fair trade. The students spent the weekend assisting with various aspects of the event and advertised the importance of fair trade to visitors. As part of this endeavor, the interns conducted interviews with international festival-goers to try to understand visitors' prior knowledge of fair trade issues.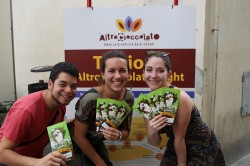 This internship with Altrocioccolato and with Monimbò, a fair trade store, is designed to give students the opportunity to apply intercultural communication skills and theoretical knowledge to gain practical field-based experience. In a few weeks, the interns will organize a documentary screening  for the Umbra community and local citizens titled "The Dark Side of Chocolate," highlighting issues related to chocolate and fair trade.