Back to (High) School!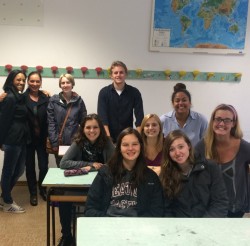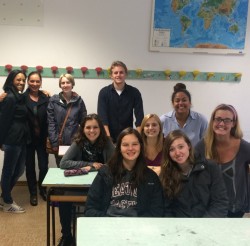 Umbra is excited to share its continued collaboration with Liceo Alessi, a local high school in Perugia that regularly invites Umbra students as English tutors for its English program. Fall 2015 Students will be volunteering with teachers to ensure integration of the American culture and language into the classroom environment. Spring 2016 students will then continue the collaboration effort as practicum students.
The program at Liceo Alessi is designed to offer Italian students the chance to work with native English speakers, better their understanding of English linguistics, and learn about a socio-cultural reality that is different from their own. In return, Umbra Students gain hands-on experience in the world of Italian education, they observe the reality of English language learners, understand diversity in language teaching and learning, and gain insights into how Italian youth view the language learning process.
This week, as an introduction to the program, Umbra students visited Liceo Alessi to discuss the content of the program as well as the teaching methods to be used with Professor Lucia Amico, who is responsible for the coordination of Liceo Alessi's program. Students were told that the program would involve multiple chances to organize group activities in classes presenting various subjects, from math and science to geography and literature. During these activities, students will be asked to aid the teacher in encouraging conversation in English. Umbra students will also have the unique opportunity to prepare a presentation, regarding a topic chosen by the Italian teacher, and to take over a day's lesson in a creative and interactive way. The introduction ended with a tour of the school's facilities to familiarize students with the computer lab, library and other useful locations at the school.
To learn more about next semester's practicum and seminar course with Liceo Alessi, Click here!