Ceramics for UNICEF: Volunteering during the Holidays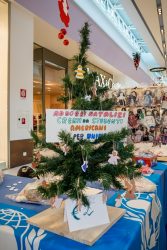 Ornaments on display in Quasar Village
This year, the ARCW 350: Introduction to Ceramics class used some of their extra ceramics materials and free time to contribute to the local UNICEF chapter by creating holiday ornaments. The ornaments are currently on sale both at the Umbra Institute and at various locations throughout Perugia, such as the Quasar and Emisfero Shopping Centers. Funds raised from ornament sales, like those raised through the Pigotta doll project, will go toward paying for vaccinations and lifesaving medical assistance that is provided to women and children affected by poverty.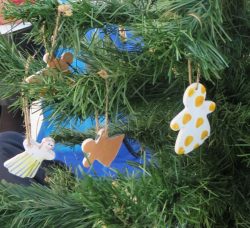 The project began when a representative from UNICEF, Maria Luisa Blasi, came to speak with the class about the organization, its goals and its work. Julia Mericle, a student from Saint Bonaventure University, assisted with the UNICEF ornament project and felt inspired by it. She said that she wants to encourage her friends back home to learn more about UNICEF and "brainstorm ideas for ways our classes back at Saint Bonaventure might be able to get involved with this organization as well."
The Umbra Institute is excited about the enthusiasm that students direct toward its partnership with UNICEF each semester. Umbra looks forward to continuing its work with local UNICEF members in the semesters and years to come.
Click here to learn more about UNICEF.
Click here to learn more about volunteer opportunities at the Umbra Institute.