Featured Blog Articles
Umbra Blog
Chilling at Gelato Night
After its coldest May in what many locals declare centuries, Perugia is experiencing a scorching June. When students heard that Tuesday was Umbra Gelato Night, they swarmed Gelateria Veneta without a second thought.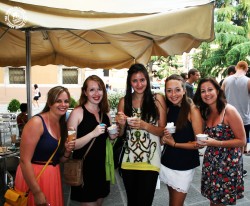 An age-old Umbra tradition, Gelato Night offers students the opportunity to mingle over free gelato. They may practice their Italian while ordering, chat about their experiences in Perugia, and sample the more daring flavors Gelateria Veneta offers (malaga, anyone?) or classic favorites (you can't top the dark chocolate-coffee combo, in this blogger's opinion).
Long recognized for its icebreaking capacities, the history of Italian gelato is particularly rich.* During the Italian Renaissance, the infamous Medici family of Florence held a contest for the greatest frozen desserts — most likely during the last June with temperatures stretching humidly into the 90s F, like today's. A chicken farmer named Ruggeri won with his frozen blend of sweet fruit juice and ice, more a sorbet, really.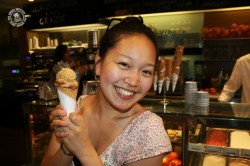 We can thank the Florentine Bernardo Buontalenti for improving on the dessert (that's right, sorbet lovers). In the late 1500s, the Medici commissioned Buontalenti to prepare a feast for the King of Spain. For dessert, he whipped up a creamier version of Ruggeri's dessert: the first real gelato. 
Strolling down Corso Vannucci centuries later, Umbra students licked their cones in the warm evening breeze, enjoying the dessert of kings.
*Thank you, whygelato.com, for the history of gelato.