Education
Psychology
Umbra Blog
Employability Development: Closing the Divide Between Students and Employers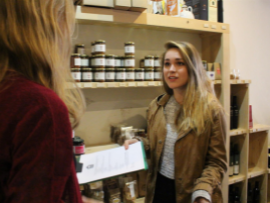 How does study abroad prepare students in terms of their employability?
Dr. John Dennis, a professor in Umbra's Multicultural Psychology Program, is currently engaged in research to uncover how educators can help close the divide between students and employers. Through his research, he has discovered that while international education researchers often focus on the development of 'social intelligence' – how students relate to others – what he has found was a deeper link to cognitive skills. "Skills like 'quick thinking', 'learning agility', or 'creative insight' are employability skills that develop the most, post-international student experience," elaborated Dr. Dennis when asked about the most recent results of his work.
In addition, Dr. Dennis and his team have identified 'team work', 'customer focus', and 'diligence' as key employability skills developed during and after the study abroad experience.
To analyze cognitive skill development, Dr. Dennis and his research partners have been using game-based analytics, as a way to limit self-reporting bias and discover what employers value the most. Their research will be presented in detail at the upcoming NAFSA annual conference through their presentation 'Local employers and globally aware graduates: Creating the perfect match.'
Where should we focus our pedagogical methods to ensure that students get the most out of their experience?
"Community engagement is the number one thing that Umbra does that supports employability skill development," shared Dr. Dennis. Though students may initially resist some activities because the experience requires them to step out of their comfort zone and beyond the pages of a textbook, they later communicate with Dr. Dennis to let him know how these experiences have become invaluable to them as they reflect on their education and prepare for their careers. For this reason, Dr. Dennis regularly integrates community engagement into his classes. Past examples include the class partnership with a local winery, Chiesa del Carmine, to help improve their corporate culture, and with a local non-profit that works with immigrants, CIDIS, to help with integration and intercultural differences.
"I really enjoy working with students so that they can make 'data-driven decisions'," shared Dr. Dennis when explaining how he evaluates written and oral assignments and selects readings for his syllabi. The goal is to have students study key concepts of Organizational Behavior or the Science of Behavioral Change and develop those skills that will maximize their potential to flex their higher order cognitive skills so that they are 'so good they can't be ignored' by future employers.
---
Umbra invites you to contact us at [email protected] to arrange a meeting with our staff during the NAFSA annual conference this spring, and to ask for more information regarding Dr. Dennis' presentation at the conference.
Click here to learn more about Umbra's community engagement efforts.