Favorite Sport: Reading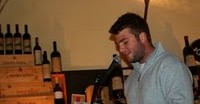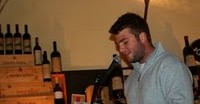 A record-breaking number of students showed up at La Tana del Orso for the semesterly Literary Reading for Professor Cindy Clough's Creative Writing class. They crowded into Via Ulisse Rocchi prior to the 7:30 event, many worried that the televised sporting event that had been pushed forward to 5:30 would not end in time for the popular bar to accommodate the crowd. Wondrously, however, the room cleared punctually and tables filled instantly with Umbra students, staff, faculty and even a few visiting parents.
Creative Writing professor, Cindy Clough, reminded students that the "rhetorical situation" of La Tana was unique and certainly different from that of the student literary magazine; they could pull out their riskier pieces in an atmosphere of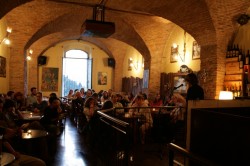 fun. Food seemed to be on everyone's mind; students produced essay after essay on culinary experiences while waiting for La Tana staff to do some kind of loaves and fishes trick for the hungry unexpected multitudes. Beth Dudek, whose parents were visiting, dared to go first with her panegyric to Nutella and Jackie Starner followed suit, describing thedubious discovery that Nutella could be used even as a facial mask. Geno McDermott had everyone in stitches with his ribald caricature of Parma sandwich eaters. As the night progressed, the readings took a more pensive turn with Dan Gillespie's reflections on Hugo Van der Goes Portinari Altarpiece and Paul Schiller's narrative of travels with a kindhearted Sicilian who sang Madonna songs. No one was exempt from sharing something s/he had written during the term, but there were no shrinking violets: Everyone grabbed the mic with gusto and all had a rollicking good time.
The Tana reading offers Umbra students not only a chance to share stories of their fondest study-abroad memories, but is also the first of many end-of-term celebrations.