Fiera dei Morti – Celebrating November in Perugia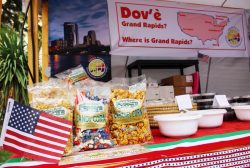 Perugia's sister-city, Grand Rapids, MI sent representatives to share American culture
Cultural festivities are key contributors to the study abroad experience. Perugia offers a host of festivals, such as the educational Journalism Festival that takes place in April, and this month's Fiera dei Morti (Festival of the dead).
Fiera dei Morti is a fair that lasts from November 1st through the 6th. The modern fair includes numerous activities for children as well as a seemingly endless international market, allowing for the purchase of items and foods from authentic Venetian Murano Glass to Slovakian chimney cakes. Even Perugia's sister-city, Grand Rapids, MI sent representatives to share American culture and sweets such as artisan maple syrup and caramel corn.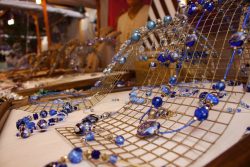 For centuries, the festival has served to stimulate the local economy as it has been an important stop for merchants and artisans seeking to sell their craft. The history of the Fiera dei Morti goes back to medieval times, when it was once called Fiera di Ognissanti (All Saint's Festival), since the festival begins on All Saint's Day, an Italian national holiday. The festival's name change is relative to the fact that November 2nd was historically a day dedicated to prayer for deceased family members, a day for the dead. It now serves as a traditional event that signifies the cycle of life and death as winter approaches.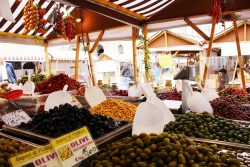 Current students may explore the festival throughout the historic center of Perugia and also by taking a bus or minimetro down to Pian di Massiano, where they will find miniature amusement park rides and a sprawling market.
Similar festivals hosted in Perugia include October's Eurochocolate Festival and an extravagant Christmas market from the first week of December through January 6th.