Education
Featured Alumni
Psychology
Umbra Blog
Former Student Returns as Professor to Teach Cultural Communication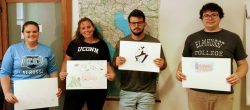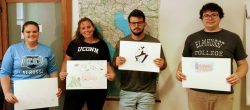 An article by Rocco Catrone— adjunct faculty and Behavior Analysis practitioner at Elmhurst College, visiting professor and alumnus of the Umbra Institute.
It has been 7 years since my life changed in ways I never thought possible.
Some days, it feels like a lifetime ago but in even more ways, it was as if it only happened yesterday. In the Fall Semester of 2011, I studied abroad at the Umbra Institute in Perugia. A fairy-tale dream of a medieval town in Central Italy – a place you most likely never heard of beyond those delicious Italian chocolate kisses called Baci. Little did I know that the stone walls, warm welcome from the community, Italian lifestyle, and excellent education would leave me wanting to come back.
So I did.
This summer, I am teaching a course called PSYC 260: Radical Communication which looks at how language affects the way humans behave in politics, education, and religion. Each week, we learn our topics and then apply this to the community through observations in schools, participating in clinics, or simply being integrated in the town we call home for this time.
During one of my favorite observations, my students and a local high school class were able to talk about and compare different idioms used in each of their cultures. The differences between "break and leg" and "into the mouth of the wolf" having the same functional meaning which is not immediately clear just looking at the words. My students and the high schoolers enjoyed this activity so much that we were asked to come back and further look at cultural differences through interviews to learn more about the differences and similarities in Italian and USA culture. This information was learned first-hand and not in some textbook.
The nuances of a culture are more apparent when you are directly living there, surrounded by others who did not grow up in your own cultural context. This is something, which was taught to me during my time here, that I try to bring to my students. We learn in class lectures and class activities how to be more culturally competent – How are choices made? How does different learning histories affect this? How does language factor in all of this?
Perugia is a perfect classroom to learn these topics as it is unlike the more popular Naples, Florence, Milan, or Rome. You live here and are a part of the community. We live in apartments in buildings with other local Italians – not dorms. We learn Italian by ordering food at the grocery store and connecting with the local merchants in the giant open-air markets. Evening walks with friends down the main drag while enjoying gelato. All of this without being glued to a phone or computer.
Perugia has its hold on me and a piece of my heart will always be here. The Umbra staff have been instrumental in my coming back and I thank them every day for giving me this opportunity to do so. I hope to return next year and every year after that to share this wonderful place with my students.
Be sure to check out my students blogs posts during their experiences here tying what they learned in class to the observations!
Click here to learn more about Umbra's Multicultural Psychology Program and opportunities to study similar topics during a semester abroad.