Group of Students Hosts Residence Cooking Contest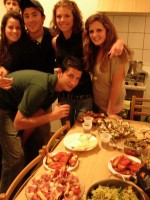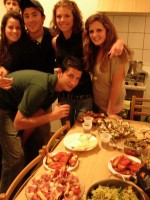 Students organized and held a cooking contest for the eight student apartments within the Monteluce Residence. Awards were provided to students for the best dish, the best overall culinary contributions, and the most creative dish. Jesse Gamar and Bryan Yuhas won the award for best overall creations, including their eggplant, ricotta, and chicken wraps. These wraps, along with Kelly Ferro's and Rebecca Pilgrim's version of Bananas Foster, tied for best dish. Ryan Huseby's Roman-Era Olive Relish was voted as most creative dish. The men from Apartment Six – Dino Campellone, Amico DiFranco, and Paul LaGuardia – received the honorable mention award for their pasta dish.
This was the first cooking contest organized in the Monteluce Residence. The idea came from former student and current Umbra intern, Reid Williamson, who lived in Monteluce in the fall semester. The Monteluce Residence is a unique student housing option in a residential area of Perugia.