How Study Abroad Inspires: Entrepreneurship Advice from an Umbra Alum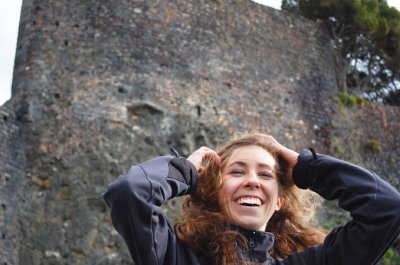 Jessica Paholsky (Spring 2012, Pennsylvania State University)
Linkedin Contact, Jessica Paholsky
Current Role: Founder of Once Upon a Pesto, Video Marketing Coordinator at Milton Hershey School
This article is part of Umbra's Alumni Success Series. Study abroad inspires students from all backgrounds and with all sorts of career goals. Therefore, each article in this series is meant to provide advice and guidance for current and former students interested in pursuing the types of careers our alumni hold, with some offering opportunities to connect by email or LinkedIn for further advice. We encourage you to follow us on LinkedIn so you can read future features!
---
Umbra: Can you describe your inspiration for Once Upon a Pesto?
Jessica: Shortly after I started my role as video producer at Rodale, Inc.—which at the time was an American publisher of health and wellness magazines, books, and digital properties—I set out on a mission to one day publish a cookbook. Before any pages could be turned, there needed to be a clear and defined vision as well as a topic that wasn't already saturated in the market. After research, personal reflection, and several idea sketches, I landed on the idea of pesto. Having produced a mini-documentary about olive oil for my college honors thesis—which was inspired by my semester abroad in Italy—I realized pesto was the perfect way to elaborate on my expertise with another classic Italian food product
U: Why pesto?
J: After further research, creative thinking, and planning, my mission became to educate, entertain, and excite others with the fact that pesto is a process. The word pesto derives from an Italian verb that means 'to crush' or 'to grind.' It's the same verb from which we get the word pestle (The mortar and pestle was the first culinary tool used to make pesto). That means ingredients from all around the world—not just Italian basil—can be used to make the sauce. Pesto was the gold mine that allowed me to blend several of my passions—storytelling, travel and culture, and food history—into one package. Once Upon a Pesto shares the stories of food and recipes with two main goals: to make other cultures accessible and to inspire creativity in the kitchen.
U: So how did your study abroad inspire your idea and its evolution?
J: My study abroad in Perugia laid the foundation for Once Upon a Pesto. While most of my classmates used our four-day weekends to board short flights to other European nations, I committed my travels to visit 20 regions in Italy so I could gain a true understanding of the nation and its culture. Seeing first-hand the diversity that exists throughout Italy—which can be overshadowed by generalities seen in movies and experienced in foreign restaurants—sparked a curiosity in me to learn about more cultural histories and facts.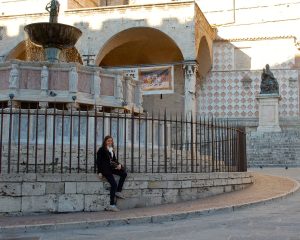 One of the classes I took was The History and Culture of Food in Italy. The lessons and excursions included in this course, no doubt, fed my vision for Once Upon a Pesto and its incorporation of food history on a global stage.
U: Did your time in Perugia lead to more international experiences?
J: Well, fast forward to my first job out of college at a teen travel company where I led and filmed trips in Europe, Costa Rica, and China. My approach to new cultures continued to flourish. As a lifelong learner, I was still hungry for knowledge about other places and people. Once Upon a Pesto, in many ways, satisfies that hunger, and what I love most is that I can share it with others through entertaining and educational content.
My content and brand have given me the platform to be able to nurture relationships with other chefs, home cooks, and travel enthusiasts based throughout the world. Not only do I regularly message and engage with these people through social media, but I also host regular Instagram Live Q&A videos that dive deep into a particular country's food and recipes. These conversations have featured guests from as far as New Zealand, South Africa, and India to as nearby as Honduras, the Caribbean, and New England.
U: Considering the root of 'pesto', what guidance can you provide to future entrepreneurs regarding the process (or 'the grind') of starting your own business?
J: Much like making pesto the old-fashioned way by hand with a mortar and pestle, working toward a challenging goal brings about something special, something more flavorful, something very rewarding. I'm not a chemist, but it's said that pesto made by hand in a mortar and pestle allows the ingredients to break down individually and then integrate with each other in ways not possible by pushing a button and letting an electric blender do all the work. In the same way, a deserving achievement takes time and dedication—'the grind'—and brings to its laborer something greater than if the project were easy or completed by someone (or something) else. I can't help but summarize this analogy using a quote from the late Kobe Bryant: "Great things come from hard work and perseverance. No excuses."
U: Have you experienced any difficulties in business ownership that were made easier by lessons learned from study abroad?
J: One of the biggest hurdles I recently overcame was putting myself directly into my brand. This is where three key lessons I learned during my study abroad came into play.
The first lesson: Take risks. I look back at my solo weekend travels across the Italian peninsula and realize how much I was stepping outside of my comfort zone. I was pushing myself to new personal growth beyond the shy teen I was when entering college. Putting myself out there as part of my brand was new and risky. But would it hurt my path to success? Was I ready to make that level of commitment? The answers were no and yes, respectively. Soon after I made the brand change, Once Upon a Pesto experienced increased growth in followers and I saw more personal connections develop across the world because people were now seeing a face in front of the brand.
The second lesson: Have a plan. Those weekend travels from my semester base in Perugia were not haphazard. Each trip throughout the four months I was abroad was carefully and thoughtfully planned out to every last detail—where the train stations were, which hotel or bed and breakfast received good reviews but was reasonably priced, how many sites I could trek to on foot or public transit, and if it was more practical to cover multiple nearby cities in one weekend or split them up. Venturing to the front side of Once Upon a Pesto with my presence required weeks of planning and mapping out my next steps. This included everything from the content pieces themselves to the style, frequency, and distribution of each piece.
The third lesson: Set time-based goals. It wasn't until about a week into my semester in Perugia that I decided I wanted to visit 20 regions of Italy during the next four months. When I set a goal, there's no wasting time or waiting for things to happen on their own. Similarly, my shift with Once Upon a Pesto was completely intentional and goal-oriented. I wanted to establish myself as my brand's storyteller, front and center. In my experience, goals are more likely to be achieved when they are time-based. Therefore, I listed out my transition plan, week by week, including updates to my website and social media profiles.
U: Can you share any lessons from studying abroad that have benefited you as a businesswoman?
J: The lessons study abroad inspires are priceless. They benefit students both personally and professionally for years thereafter. For me, these lessons involved strengthening my managerial skills, enhancing my independence and courage, practicing frequent and effective cross-cultural communication, intensifying attention to detail, and elaborating on strategic problem-solving. When I take the time to reflect on my study abroad—the places I traveled, the people I met and talked to, the coursework and projects, and the apartment-style living—each of these lessons reminds me of how transformational and transferable the experience is. I see each lesson still present in and growing my character, my work style, my interactions and relationships, my career, my hobbies, and Once Upon a Pesto.
U: Do you have any remaining advice regarding business leadership that you'd like to share?
J: For Umbra's current and prospective students, my three tips are:
Step outside your comfort zone: During my study abroad, I wasn't afraid to travel solo and off the beaten path to places that weren't necessarily top-of-the-list among other students.
Make each day count: While a whole semester may seem like a long time, it really goes by fast so it's important to try to accomplish something new, different, or memorable each day.
Understand the value of developing connections: As a storyteller by trade, I listen intently to each person I interact with, and that's how lasting relationships start. Many relationships I formed during my study abroad continue in my life today.