On the Hunt for Umbrian Gold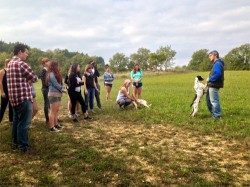 Not-so-bright and very early Saturday morning a group of intrepid Umbra students set out on the hunt for "Umbrian gold" – truffles! Participants in Umbra's Food Studies Program joined Program Coordinator Elisa Ascione on a trip to Citta' di Castello, to the Agriturismo Ca' Solare.
Upon arrival in Citta' di Castello, the group was greeted by Matteo Bartolini, President of the European Council of Young Farmers. The day began with a presentation on the variety of truffles that grow on Matteo's land. Most people are familiar with black and white, but there is variation within each group as well depending on what season of the year the truffles can be found.
After some background information, it was time for the hunt! With the help of Matteo and two of his highly-trained truffle hunting dogs, Sole and Zoe, the students followed the scent of truffles through the countryside, ultimately coming up with two different types of black truffles and a very rare white truffle!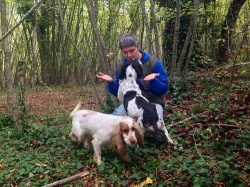 Matteo then advised the group on how to properly store several different types of truffles before everyone retired inside to enjoy the day's discoveries. The group sat down for a long and leisurely meal of truffle crostini, pasta with shaved truffles, chicken and potatoes, and homemade biscotti with coffee.
The day concluded with "Truffle School Graduation," as Matteo calls it, with each student receiving a Truffle School diploma signed by the master himself.
Learn more about Ca' Solare here: http://www.agriturismo-casolare.it/.