Learning Italian while Studying Abroad in Perugia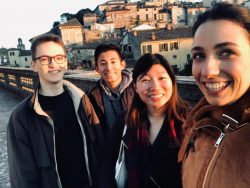 By Gerardo Moceri, Arizona State University and Spring '19 Umbra Rep
Studying abroad in a smaller town in a foreign country can be a scary thought at first, as the language barrier can sometimes be a lot. However, the experiences you gain from going along with them are well worth it. It is easy to become culturally immersed in a smaller town like Perugia, which makes learning and speaking Italian much more fun. There are many students from all around the world here with whom you can meet and practice Italian. The Umbra Institute also has many opportunities to allow us to practice with other local students. Along with the, living in a smaller city like Perugia, we get to practice our Italian a lot with the locals, and since it is a very popular university town, locals are very open to speaking with you.
I signed up to take Italian 310 at the Umbra Institute because I really wanted to challenge my skills in Italian. I had only one year of experience in Italian before, so I was a little nervous that I would not score well enough on the placement test to remain in the class. However, the test went well and after meeting and speaking Italian with Aimée and Francesco, my professor, I knew I would be ok. There are only six people in our class, so we have gotten very close and the small class helps us be more engaged. It also forces me to get out of my comfort zone, which makes speaking Italian in public easier. I have not only improved my Italian grammatically, but also learned fun expressions that make me feel closer to the culture.
One way in which Umbra helps us better our language skills outside of the classroom is by offering conversation partners who are fluent in Italian. Along with two other Umbra students, we meet with our conversation partner, Pietrina, and she is great in helping our language skills develop. We meet at least two hours a week, playing games, exploring Perugia or going out to dinner, speaking in Italian and learning more about the culture of Perugia. It has definitely been one of the best experiences so far and it has improved my Italian.
About every other week, Umbra hosts an event called Tandem, which allows students from Perugia to meet with Umbra students in a language exchange opportunity. The Italian students get a chance to practice their English, while we get to speak Italian. It is a very open and comfortable setting, making it easier to not be afraid of making mistakes and to speak freely. We help each other out and even make some pretty good local friends. One friend in which I met offered to take us to one of the local Perugia soccer matches for Perugia's Serie B squad. It was really fun, as he took us to the supporter's section so we could get the real experience of being a fan of AC Perugia. It also gave us a chance to continue practicing Italian and learn the soccer chants for the team.
I have really loved being involved in the local community here and meeting new faces. There is a local track that I usually go running at in Perugia and there I met some locals who always let me train with them. They are very patient with my Italian and they even like the chance to practice some of their English as well. One of the first times I ran there, a couple saw me running and when I was done they asked what my workout was. They were just getting started with their run though, so I ended up running another thirty minutes with them just because they were very friendly and it was a great chance to meet some locals. The next time we ran together, Alessandro and his wife invited me out to pizza! Another time, they introduced me to some very good runners and I joined in on their workout of running four 1500 meter runs. At first, I could keep up with the runners and we would practice my Italian sometimes as we ran in between breaths. However, towards the end of the workout, my consistent diet of pasta and pizza caught up to me and they ran much quicker than me. Nevertheless, we all had a good workout and got to learn more about each other. I used to be a runner and the track felt like a common home between Perugia and Arizona. Making friends at the track then helped Perugia feel much more like home to me. It also made me learn that no matter what language you speak, smiling and being kind to new people you meet is a true common language we all share. After realizing this, speaking Italian to anyone became much easier. So if I were to offer any advice to students traveling to Perugia, it's too just go for it when you speak Italian. The more mistakes you make while speaking, the faster you learn and the more immersed you will feel into this welcoming community.