Love Letter to Perugia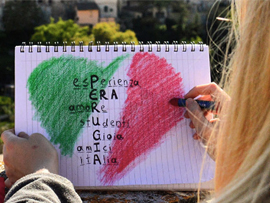 By Claudia Conrad, Umbra Spring 2020 Alum
Dear Perugia,
I must confess something… I love you.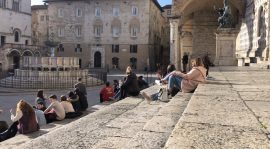 I may not be from you, but you have made me feel more than welcomed, and there's no other place that makes me feel the way you do. You make me open my windows in the morning and stick my head out to take in the fresh Perugian air. I love your warm cappuccinos in the morning that make me think about all that I'm grateful for in life. It is the simplicity of eating a warm fluffy croissant on the steps of the piazza that makes me smile. Oh, those wonderful steps. They are comforting and always there for me. They speak to me, fulfill me and introduce me to my soon to be friends. On days filled with bright blue skies and a strong sun, I sit there and bask, soaking up the warmth. I observe the pigeons that gather and then flock. I observe the locals, strolling, arm in arm, on their afternoon walk. I overhear their conversations, the Iitalian language is a constant song I love to listen to.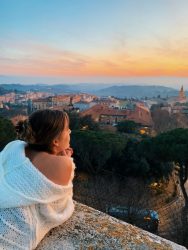 I will never forget the first time we met. I was excited to meet you, I wanted to know everything about you, but I knew this relationship would be a long and beautiful one, so there was no reason to rush it. You've introduced me to friends and loved ones and that is one of the many great gifts you have shared with me. Although we've only met a year ago, I feel as if I've known you forever. The days with you were so filled with present moments that they went by slowly, however, they gave me the opportunity to appreciate them even more. You inspire me so much. You have led me to flourish. You make me love to dance, and to express myself for who I am. You give me no worries in the world, all excess anxieties are left behind. You are truly a fantasy.
Now, we are apart. We are in a long-distance relationship. I daydream about you a lot. Thinking of the short time we spent together, and what it could've been. On days that I feel down, I sit outside, close my eyes, and I pretend that I'm with you. I listen to the playlist I made for you and I sing out loud. I know there is a mutual understanding that we will be united again some day. I can't help but wonder; how are you feeling? Do you miss the rush of locals walking through the streets in the evening? I know I do.
Please don't forget about me. I know we will be back together soon. Until then, let your sun shine, let your bells ring, and protect yourself. You are so sacred to me and to so many others.
This is my love letter to you, Perugia.