Food Studies Program Draws OWU Class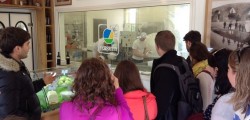 In early June, the Umbra Institute hosted a class from Ohio Wesleyan University. With the assistance of Umbra Food Studies Program Coordinator Elisa Ascione, OWU Professor Dr. Christopher Fink taught his students that  food — especially in Italy — is "more than just a meal."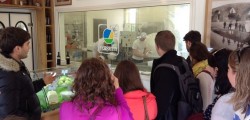 The group visited Perugia as part of a two-week, travel-learning component to Fink's course, "A Qualitative Investigation of Food Philosophies and Traditions." During the spring semester in Ohio, students observed markets and collected oral stories of food traditions. In May, they continued their studies while traveling around Italy, rounding out their experience at Umbra.
"By taking this class, I've been able to experience things I would have never been able to if I came to Italy on my own," OWU student Sara Scinto said. "We're living what we've studied."

The students learned about — experienced — the cultural importance of Italian food traditions, contrasting their market observations in the U.S. with parallel sites in Italy. Ascione arranged educational outings designed to educate the class about Umbrian food, including a cooking lesson; visits to a cheese cooperative, farmers' markets, and a winery; and olive oil and pizza workshops.
"I think that the students really saw the theory-into-practice concept at work during our time in Italy, specifically in Perugia," Fink said. "The field validation of our course concepts was really invaluable to reinforce the complex nature of food, culture, and tradition."