Languages Exchanged, Friendships Forged at Tandem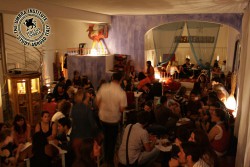 Over sangria and snacks, 50 Italians and Americans bonded over linguistic and cultural differences and similarities during the first Tandem of the summer semester at il Birraio Wednesday evening.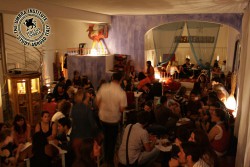 Tandem is an event that brings Umbra students and Italian locals together to exchange languages, compare cultural practices, and forge friendships. An Umbra Italian professor guides the group in conversation topics if needed, but the setting remains informal. From beginner to advanced, the language ability varies for both the Italian and American participants, making for an ideal exchange.
"(Last night's) was the best Tandem we've ever had," said Marco Bagli, the Umbra staff member who coordinates the exchanges. "We had an amazing balance of American and Italian students. Just from looking at people's faces, you could see that they were really having a good time."
Open to Umbra students enrolled in an Italian course and Italians who want to practice English, the next Tandem will be held at 7:30 p.m. June 26 at il Birraio.