Perchè in Italia? Why Study Abroad in Italy?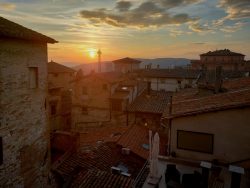 By McKenna Brooks, Fall 2018 Umbra Rep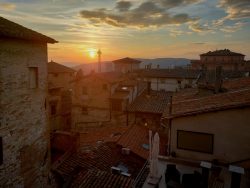 Ciao! If you're reading this, then that probably means you're thinking about studying abroad in Italy. YAY! How exciting! When I decided to study abroad, I was very torn about where I wanted to go. I love traveling and I have so many places that I would love to visit. In the end, I decided on the Umbra Institute in Perugia, Italy. It turned out to be the right decision and one of the best of my life. In this blog post, I'm highlighting some of my favorite aspects of Italy and why I love living here so much. (See pictures below)
FOOD
If you're a 'foodie' like me, then you'll love Italy. It's home to amazing pasta, yummy pastries, and fantastic pizza. I mean, who doesn't love carbs, sweets, and cheese? Fresh mozzarella, buttery croissants, and homemade pasta will make you never ever want to leave. And if that isn't enticing enough, the fresh produce is the best I've ever had. For all my chefs out there, the raw ingredients will take your grandma's recipes up a notch. Honestly, if it weren't for all the uphill walking and no elevators, I'm sure by now I would've doubled in size. Italy does live up to the food expectations.
ART
Tons of the world's most famous painters, sculptors, and architects are Italian. People like Leonardo da Vinci, Michelangelo, and Botticelli to name a few. Even if you aren't an art enthusiast, the buildings, frescoes (similar to murals), and statues are impressive to anyone, regardless of their interests. For example, Florence houses world renown, iconic works, such as Michelangelo's "David" and Botticelli's "Birth of Venus." Even less famous works like frescoes painted by Cimabue and Giotto in Assisi, dating back to the 13th century, can still be appreciated. Living in Italy and visiting numerous museums and cathedrals has given me a newfound love and respect for art.
VIEWS
Okay, if you've read this far and aren't convinced, then maybe this will change your mind. Because of its location, Italy has everything from Mediterranean beaches, vast coastlines, lush forests, rolling plains, and beautiful mountains. The landscape is covered in towering cypress trees, umbrella pines, palm trees, fields of grass and flowers, and panoramic vistas where you can see for miles. Even the towns and cities packed full of buildings and people are undeniably gorgeous. Contrary to the States, seemingly every plaza, street, and apartment has been crafted with artistic care. You can find detailed facades, huge engraved doors with bronze knockers in the shapes of lion heads or hands, expertly paved streets, arches, and spouting fountains surrounded by sculptures. Italy is genuinely such a beautiful country that you'll fall in love with it immediately.
There is so much I love about Italy. I can only write about a few things, but I hope you can understand how absolutely amazing this country is. Although, this is just my experience and what I appreciate, I'm confident in saying that no matter who you are, you'll have an absolutely wonderful time in Italy. Grazie per la vostra attenzione! Thanks for reading!