Promising Wine Journalists Refine Their Palates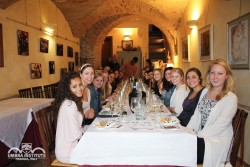 Professor John C. Hartsock's course, JCFS 380 Wine Journalism: Telling Stories of Wine, explores the history, tasting, production, sustainability and journalism of wine. The visiting SUNY Cortland professor and wine author started the summer session off right by taking students to a wine-tasting at Énonè.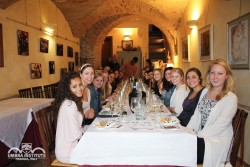 Students were introduced to the basics of wine with the help of the local enoteca's owner Flaviano and sommelier Silvia Bartolini (as well as Flaviano's infant son, the "true owner"). The three experts filled the young wine journalists' minds and palates with the wisdom necessary to have a cultured summer of writing about Italian wine.
The students tasted three carefully selected local wines (a prosecco, a white, and a red) through a process of visual, olfactory and gustatory examinations. These wines were paired expertly with a delicious plate of Italian appetizers. Students also learned the proper glasses for specific types of alcohol, and were educated on local drinking customs and liquors.
 Some lucky students even had the opportunity to try being a sommelier. Though they discovered that it is more difficult than it seems to open a bottle artfully, they are certain to improve.