Student Housing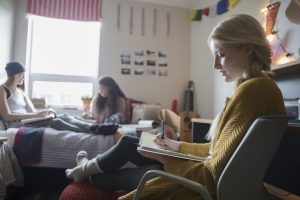 You're going to love your student apartment. How could you not? All student housing is carefully selected by Umbra to be centrally located and is a mix of modern amenities and old-world charm. You'll be living with other Umbra students, local Italian students, or international students—your choice. All accommodations are within short walking distance of the Umbra Institute as well as other local resources, such as pharmacies, cafes, banks, supermarkets, and the post office. There's no need for public transportation in Perugia: everything you need is a hop, skip, and a cobblestone jump away.
Student apartments vary, but the Umbra staff works hard to scrutinize each unit, deeming it clean, well-maintained, safe, and adequately furnished. Accommodations usually have two beds per bedroom and shared closet space, desks, washing machine, and a common living area. Kitchens include a refrigerator, stove, sink, pots, pans, dishes, and cutlery. Students are also provided with sheets, blankets, and pillows. Bathrooms are shared with roommates and include a toilet, bidet, and either a shower or bathtub.
In some cases, your apartment may include the following: a television, microwave, full oven, antique furniture, a dishwasher, an elevator, or a cleaning service (for kitchen and bath only). When completing the housing request form, be certain to indicate your preferences (apartment, house, living with locals, single bedroom, etc.) and any mutually requested roommates. Note that all apartments included shared bedrooms. Single bedrooms are limited an available only on request – additional fees may apply.
Meals and Cooking Home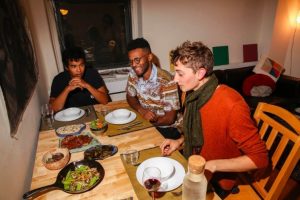 Currently, there is no meal plan at the Institute; most meals are prepared at home in the kitchen or purchased in one of the many affordable Perugian cafes, trattorias, and pizzerias. In addition, food delivery services have become increasingly popular among students in Perugia and include Deliveroo and Justeat among others. Umbra students also have access to a variety of other resources such as the new university library café and nearby coffee shops, all which boast extended hours, Wi-Fi access, drinks, snacks, and a chance to socialize with Italian students. Umbra students can take full advantage of these and other venues including cafes, parks, pubs, and Perugia's well-established social scene.
University Cafeterias
Students who choose to study at one of the local universities will have access to the University cafeteria which offers wonderful meals – this is Italy after all – at low cost. Cafeterias are located at the University of Perugia and the Università per Stranieri di Perugia (website).
Homestays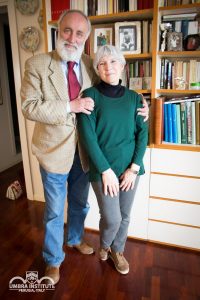 A homestay program is ideally suited to students who would like to enhance their Italian studies outside the classroom in a warm, welcoming social setting. Our host families are carefully selected to ensure that Umbra students have the most rewarding experience possible. The Homestay Program includes a fully furnished private bedroom, shared or private bathroom, linens, and access to laundry and kitchen facilities as well as Internet. Meals may or may not provided, though the host family often invites the student to eat with them.
A homestay offers the opportunity to be completely immersed in Italian daily life and culture. However, it also presents unique challenges, requiring a certain level of maturity and an ability (and openness) to adapt to a foreign culture. You will be expected to communicate largely in Italian; though this can be frustrating at times, it is an excellent way to practice the language. Yet, while the family is generally happy to interact and converse with their guests, they cannot be expected to act as round-the-clock Italian teachers. Walking distance is approximately 15 to 20 minutes from the center of Perugia, where Umbra is located. Homestay participants are expected to respect the host family and their property. No overnight guests are allowed.
Living with a host family is a unique and transformative experience and can be perfect for students who wish to fully immerse themselves in the life of a typical Italian. Additional fees apply for a homestay. Contact us for more info.
Umbra Housing Staff
Adapting to your housing—and its inevitable idiosyncrasies—is a fundamental part of Italian life. The Umbra Institute maintains a staff exclusively for servicing student housing to ensure that you are comfortable in your apartment, and to address any maintenance issues that may arise. They are on hand to assist with everyday concerns, such as lack of hot water, broken appliances, or other housing needs. Monthly apartment visits are standard practice at Umbra to ensure that all apartments are properly cleaned and maintained. The cleanest apartment wins "Apartment of the Month," and all lucky occupants are treated to a free pizza dinner.