Updated 8/12/2021
Our Response to COVID-19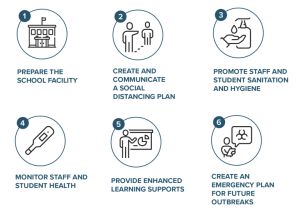 Upholding the highest health and safety standards is our first priority as we plan our reopening. Summarized here is our current plan for a responsible and safe reopening in accordance with the health and safety guidelines defined by the Italian Ministry of Education (MIUR) and advised by the European Community, and recommended by the American Association of University Programs in Italy (AACUPI).
Our commitment is to ensure that all necessary health, safety, and preventative measures are firmly in place. We will work closely with local and US partners and communicate and demonstrate to the ISI Abroad community that our Institutes have diligently established a sound plan for reopening. It is our goal to ensure that every student is afforded an authentic and meaningful study abroad experience – personalized, engaging, rewarding, and safe.
Preparedness Prior to Arrival
All students, faculty and staff must be fully vaccinated against COVID-19 and submit documentation prior to the start of the program. All accepted students will be given a pre-departure handbook documenting the rules, regulations, and guidelines with special attention to our reopening policies related to covid-19. As always, our admissions team is available to assist students with the enrollment process and pre-departure preparation. Online Q&A sessions and webinars will also be offered.
Student Travel to Italy and Entry
Should travel restrictions still be in place, the Institute will provide a checklist of the documents required and the policies and procedures to follow prior to departure and upon arrival. No study visa will be required for US citizens. Currently, all students should bring with them the following documents required for entry to Italy at this time. As of August 1st, 2021 these include:
Proof of Vaccination (this must also be shared with the Institute)
EU digital Passenger Locator Form (https://app.euplf.eu/#/)
At this point, a negative Covid test is not required for entry into Italy for vaccinated US citizens, but this rule may change after August 30th–see this page for updates.
Arrival and Orientation
Upon arrival, students will be taken from the airport to Perugia in private bus, and then taken directly to their assigned apartments in a taxi or private coach. At the apartments they will find:
Sanitation Certificate
Starter kit of COVID supplies – masks, sanitizing gel, cleaning products
Infographic posters (COVID rules and regulations).
During orientation, the Institute will reiterate the information found in the student handbook with a special presentation dedicated exclusively to covid-19. Topics will include local laws, rules and regulations of the Institute, prevention, health and safety recommendations, healthcare and medical assistance, and contingency plans (remote learning, repatriation, etc.).
Preventative Measures at Student Apartments
All apartments will be professionally cleaned and sanitized with products approved for covid-19 prior to student arrival. All apartments will have the sanitization certificate, a poster infographic and guidebook outlining the rules, restrictions, preventative measures, and cleaning practices.
Professional and periodic cleaning and sanitization services will be made available throughout the semester (as requested by students and at their expense).
Preventative Measures at the Institute
The Institute will follow the current health and safety guidelines established by the Italian Ministry of Education. Institute policies and guidelines will be updated upon reopening and prepared by certified local health and safety consultants. Current measures include:
Keypad entry security system
Registering all persons that enter the Institute
Hand sanitizing gel at the entrance
Touch-less thermometer at the entrance
Regulations and guidelines poster at the entrance
No entry for those with symptoms attributable to Covid-19
For those entering the Institute that are not part of the Umbra community (visitors, cleaning and maintenance personnel, etc.) the Institute will maintain a log of their visit including date, time, areas entered, and purpose of visit for contact tracing. The Institute will seek to schedule such visits after hours when students are not present, when possible.

Regulations and Guidelines Inside the Institute
Masks must be worn at all times;
Social distancing must be respected at all times; and
Frequent sanitizing or washing of hands required.
Poster and Signs for rules and regulations for Covid-19 laws, policies will be placed at the entrance and throughout the Institute.
Sanitizing gel will be in all bathrooms, classrooms, and common areas of the Institute.
Floor markings for social distancing.
De-densification of classrooms and social distancing on Institute premises
Frequent cleaning of the common area surfaces in the classrooms, restrooms, and high-traffic areas will be performed with products that meet Italian and EU anti-covid sanitation recommendations.
Daily deep cleaning and sanitizing of the entire Institute
Student Travel while Abroad
All students are required to complete a Travel Information Form prior to any travel outside of the local area. This form documents the details of their travel, including modes of transportation, lodging, travel companions and destinations. Our team will monitor travel alerts and review the travel forms to provide updates and guidance on restrictions to ensure that students avoid prohibited destinations and those considered high risk.
Suspected or Confirmed Cases of COVID-19
If there is a suspicion (but no confirmation) of a positive case of a student, they will be asked to self-isolate in a dedicated room at the Institute or in a separate room in their apartment. The Institute will assist in contacting the appropriate physician who will evaluate the situation. If the physician suspects a Covid-19 infection, the local authorities will be contacted (800 number) to perform a test on-site.
In the event a student tests positive, the local authorities will provide detailed guidance on the procedures to be followed. According to the current regulations, this may include self-isolation in their apartment or quarantining in separate housing for a specified period (usually 5 days) or until a negative test is confirmed. It is the students' responsibility to ensure the costs for quarantine facilities are covered by their international health insurance plan.
In the event that a student requires medical care or hospitalization, the Institute personnel, the student, and the appropriate personnel at the home university will work together to address the issue.
Experience and Dedicated Staff
ISI Abroad (Umbra Institute and ISI Florence) has established a Risk Management Team dedicated to monitoring & supporting Italian and EU health & safety regulations and recommendations to facilitate the policies, procedures, and safe reopening of the Institute. Each Institute includes a Facilities Safety Coordinator, responsible for the cleaning and sanitizing of the facilities, enforcing social distancing, emergency protocols, PPE resources, and other health and safety regulations. We have also assigned a dedicated Health and Wellness Coordinator, responsible for the health and welfare of our students. They coordinate medical visits, psychological counseling, and emergency services. In addition, all ISI Abroad staff are trained in health, safety, and emergency protocols.
Healthcare Support & Preparedness
We anticipate that students may have physical or mental health needs while abroad that could relate to typical causes (such as an ear infection or roommate issues) or causes related to the coronavirus. Students will be able to receive the well-established mental and physical health support offered by the Institute. The Umbra Institute APPs allow students to book medical appointments on their smartphone or contact staff members that are on call 24/7. All covid-19 tests are free. In most regions, including Umbria, medical treatment will also be provided free of charge to all international students. Furthermore, the hospital system in Italy is considered to be well-prepared for future outbreaks. Our Risk Management team is regularly monitoring similar initiatives and will be sure to update this site with further details.
Vaccination of Staff and Faculty
All employees of schools in Italy, including those in higher education, are among those listed in the priority stage of the vaccination roll-out. We expect most, if not all of Umbra's administration, staff and faculty will have been vaccinated well in advance of the start of in-person classes scheduled for September 17th. In fact, many of our staff and faculty have been vaccinated to date based on their educator status.
Fall 2021 students can click here to submit proof of vaccination or explore our FAQ for this policy.
Academic Continuity & Remote Learning
In case there is a need to deliver classroom content remotely, ISI Abroad professors are now, more than ever, capable users of the online learning platform Moodle (similar to Canvas and Blackboard). Our instructors have long used the online environment as a complement to in-person learning; that preparation has been useful and they will continue to use Moodle in the future. The use of Moodle and carefully-planned content and assignments means that we are also prepared to continue teaching online in the event a student needs to be quarantined or needs to return to the United States.
---
NOTE: Information provided on this page is subject to change as all measures, particularly those relevant to travel, social distancing, & sanitation may change in compliance with current Italian and EU laws and guidelines for public health and safety.