Say cheese: Five things students learned from the Italian cheese workshop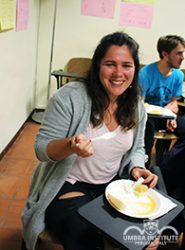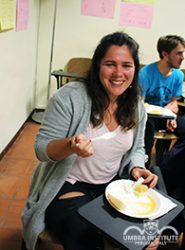 Last Thursday evening, Umbra students gathered around a table full of different Italian cheeses to learn more about their history and production for their HSIT 350: The History and Culture of Food in Italy class. Here's what they learned:
The Italian word for cheese comes from the Latin word "forma", meaning form…
… but the Italian word for cheese factory (caseificio) comes from the Latin word "caseus," meaning cheese.
Caciotta is a typical Umbria cheese.
Some cheeses are labeled DOP, which means they can only be produced in certain areas of Italy.
Some cheeses (like gorgonzola) are meant to have mold in them that you eat.
As the workshop went on, Umbra professor Marco Bagli explained more about the cheeses as he passed them out for students to try. Starting with the Umbrian caciotta, the students then sampled mozzarella di bufala from Italy's southern regions, ricotta, goat cheese, and different types of pecorino, cheese made from sheep's milk. As the different cheese plates made their way around for seconds and thirds, Umbra students continued to eat and discuss which ones were their favorites.
To learn more about Umbra's Food and Sustainability Studies Program, click here.