Stepping Up to the SoloItaliano Challenge: Students Speak only Italian for Two Days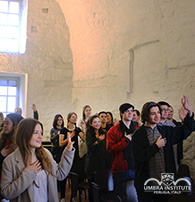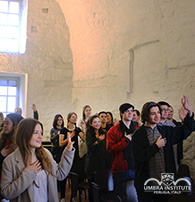 With the bust of Dante gazing at them, Umbra's study abroad students put their right hand over their heart and their left in the air as they promised to speak only in Italian for two days, starting from the morning of Tuesday, March 20, to the evening of Wednesday, March 21.
This initiative, first introduced in March 2015, helps students immerse themselves even further in their language learning in Perugia. Students promise to speak Italian at home, at Umbra, and around Perugia, applying what they have learned in the classroom to settings outside the classroom.
"What I liked about the challenge was that I got to actually use my Italian because I live with three guys who are in 310, 210, and 101 Italian, so we don't really speak Italian at home," said Jonathan Cassidy of Arcadia University. "But  I had to converse with them in Italian, which made me have to really think in the language."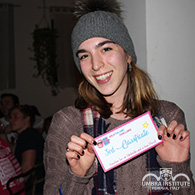 The first night of the challenge, around fifteen students came to Umbra to watch the Italian comedy Benvenuti al Sud (Welcome to the South). SoloItaliano concluded with the fifth tandem of the semester on Wednesday, at which students cast their vote for who spoke the most Italian during the SoloItaliano Challenge. First place went to Jonathan Cassidy, second place to Gabriel Wiersma of Ithaca University, and third place to Sabrina Kelly of George Washington University, each receiving a prize from Umbra.
"It was nice because if I didn't know a word, I would just have to think of a different way to describe it," Kelly said. "My roommate and I would work together when one of us didn't know something colloquial. It helped after talking a lot."
Click here to learn more about the Umbra Institute's Italian Language and Culture Initiatives.