The Secret to Authentic Italian Cuisine: Passion and Simple Ingredients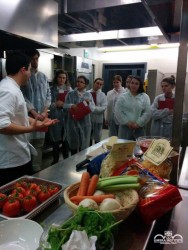 This week, Professor Elisa Ascione led her Food Studies Program students to the Università dei Sapori for a delicious cooking class. With the help of Italian professional chef Francesco Lattarulo, students prepared gnocchi alla sorrentina, tagliatelle all'arrabiata, and lasagna al ragù, all from scratch!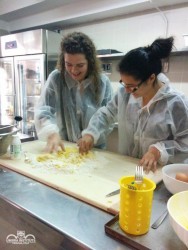 The students experienced what it is truly like to work in the kitchen of a restaurant and learned some secrets of Italian cuisine during the process. Chef Lattarulo expressed the significance of being passionate about the profession when are working long hours as a professional chef.
The importance of using simple and fresh ingredients was stressed, as well as the differences between the three sauces; canned and fresh tomatoes are basic ingredients which can dramatically change the flavor of the sauce.
Student Michael Madigan reflects that this class provided the basis to be able to create his own Italian dishes, and that food always tastes better when it is homemade!