Intensive Italian Language & Culture
Summer Courses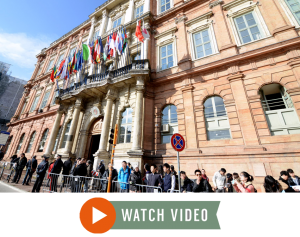 The Umbra Institute has expanded its Summer Italian Program to include additional courses in a wider variety of proficiency levels, with both one-month and two-month course options. The new program was developed in cooperation with the Università per Stranieri di Perugia where all students will be enrolled for a portion of their language classes and workshops. This intensive and immersive program is ideal for students seeking to spend their time abroad focusing exclusively on the Italian language and to engage in contemporary Italian culture, not as "study abroad students", but as temporary citizens of their new university town.
Each course covers the equivalent of two semesters of Italian language and cultural studies for up to six credits. The extended program, which includes both summer sessions one and two, allows students to complete up to four semesters of Italian language and cultural studies (8-12 credits) while rapidly advancing their linguistic skills and understanding of contemporary Italian culture and society.
The program is open to students of all levels of proficiency, including absolute beginners. Students attend classes at the Università per Stranieri, participate in tutorials and workshops at the Umbra Institute, and enjoy a rich co-curricular activities series which includes tandem language exchanges with local students, culinary exploration dinners, local day trips, visits to artisan workshops and museums, and local guided tours, all of which is conducted in Italian.
The Italian Language through Culture Program is designed for the students to use the Italian language naturally in a wide variety of real situations. These everyday experiences combined with apartment living  "embedded" in the city of Perugia, ensure a practical application of the language to the Italian cultural context along with immersion into contemporary Italian-university life in Perugia.
Program Dates
Summer Session One: May 28 – June 30, 2022
Summer Session Two: July 1 – July 30, 2022
Two Session Program: May 28th – July 30th, 2022
About the Courses
Each course is four weeks in duration and students enroll in one course per session. Courses include classes Monday – Friday approximately four hours per day. Classes are held at both the prestigious Università per Stranieri di Perugia (where students study alongside international students representing over 100 countries) and the Umbra Institute. The in-class instruction is conducted entirely in Italian and is supplemented with a rich series of cultural co-curricular activities. The program is immersive, intensive, experiential, and fun. Click the course titles below to see the detailed descriptions and material covered.
The weekly program includes:
• Language Classes at Università: 12 hours*
• Skills Development Lab at Università: 4 hours
• Pronunciation & Spelling at Università: 2 hours
• Tutorials at the Umbra Institute: 2 hours
• Cultural Activities & Conversation Workshops: 4+ hours
   * levels 470 and above are 9 hours
What can you expect after completing the program?
Whether you choose the one-session program or two, depending on your starting level, you can:
• fulfill your university's language requirement;
• gain credits towards a minor or a major in Italian;
• advance your language level sufficient to take content courses in Italian at your home university;
• gain appropriate reading knowledge in Italian to prepare yourself for graduate studies;
• get a language certification to put on your résumé;
• impress your Italian nonna!
---