Why to study abroad in Italy with Umbra – Responses from student survey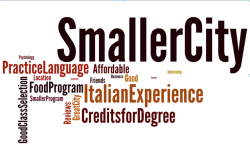 A recent survey completed by more than 75 percent of Umbra Fall 2012 students revealed that the average student ultimately decided to study at the Umbra Institute to practice Italian in a smaller, more affordable city,  enroll in the Food Studies Program, and still earn credits that will be counted toward their major – essentially, to have the "Italian experience."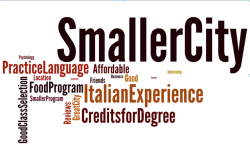 General Studies and Direct Enrollment students filled out the survey during the last two weeks of the semester, reflecting on why they selected the program and what they gained from the experience.
Here are some comments from students on why after all their research they decided for Umbra.
"Perugia seemed to be the perfect location for me–big enough to not be boring, and small enough that I would actually get the chance to use Italian in my everyday life (unlike in Florence or Rome, for example). Also, the university atmosphere of the city, and the large number of Italian and international (not just American)students."
"The variety of courses brought me here as well as the cultural experience."
"The course offered I heard was outstanding and that they and the town provided a phenomenal study abroad experience that was completely unique to any others I had research. I also heard the staff at umbra was amazing which was important in my decision as well."
"I chose Umbra (for) the chance to study at an actual Italian university," one student enrolling directly at Università di Perugia through umbra wrote. "I really wanted to study with Italians the way that they studied, and Umbra was the only option I could find for that."
"I chose Umbra because of the location. I wanted to experience Italy as a local, not as a tourist and it is exactly what I wanted out of my study abroad experience. Perugia is a great city, and Umbra is a great school with amazing professors and activities."
"(I chose Umbra) because I knew that studying abroad in Perugia would give me the best experience in Italy because I would be able to be fully immersed into the Italian culture rather than living among other American students in larger cities like Rome or Milan."
"It had the best option for me to go to a city that was small enough that I could learn the language and culture the best but also a city that was not too small that there would be nothing fun to do," another DE student wrote.
"I'm happy I chose Umbra/Perugia," agreed a DE student. "I loved being able to speak a lot of Italian in the city, and the professors were really wonderful, which is one of the things that originally appealed to me on the website."