Sustainability Class Visits World-Famous Butcher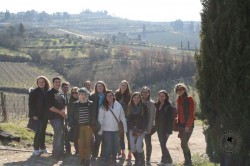 "Sono Dario Cecchini, e ho 250 anni (I'm Dario Cecchini, and I'm 250 years old)," joked Dario Cecchini, whom the LA Times calls "the most famous butcher in the world."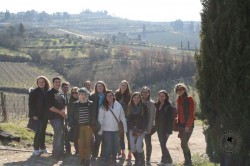 Umbra's Sustainability students visited Cecchini's butcher shop in Panzano in Chianti, a small Tuscan town, on a field trip Saturday afternoon. After a hike through the foothills, students learned about real-life sustainability while they ate a meal composed of parts from an entire cow.
"The field trip was a great opportunity to reinforce themes we've talked about in the classroom," said Professor Zach Nowak, the Food Studies Program director. "Local food will not always have the least embodied energy, meat can be 'green' if it's grass-fed, and tradition should help us with current problems, not shackle us to an idealized past."
Cecchini provided a real-world example of Nowak's lessons, though he does not fit the stereotype of a small-town Tuscan butcher. Sporting spiked hair, a bandana, and crocks, he is just as likely to play AC/DC or Led Zeppelin on his stereo as Vivaldi.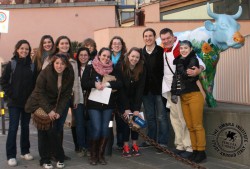 Using a modern take on yesterday's traditions, Cecchini's philosophy focuses on "the whole cow approach."
"My father was a butcher, but I never had a steak until I was 18," Cecchini explained. "We ate what was left over from the butcher shop, and my parents used peasant recipes to turn these cuts into tasty dishes, instead of throwing them away like most butchers do now. The whole cow menu: That's conservation, that's sustainability, that's delicious, and that's what we need to do."
Cecchini's comments coincide with the Food Studies Program curriculum, which encourages students to consider the basic questions about what people eat. What are the food's origins? Is it important that it be "local" or "organic?" What do these labels mean?
The students agreed Friday's field trip changed the way they perceived food.
"Dario serves cuts of meat that I wouldn't have thought to eat, but it all tasted great," Gabriella Gobiel said. "Dario says if you're going to be a carnivore, be one responsibly and use everything you can from the animal that was killed."
"It made eating animals more meaningful," agreed Kelly Miliano. "We got to hear where the cows came from, how they lived, and how they were butchered."
One scenic bus ride later, the students were back in Perugia.