Tim's Internship at Terre Margaritelli: a fully immersive experience in the Wine Marketing field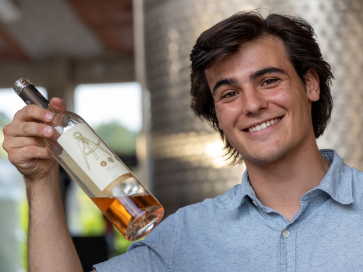 The Umbra Institute offer includes a unique internsip as Marketing and Sales Assistant for one of the most important local organic wineries of the area, Terre Margaritelli. Tim Ringie, one of Umbra's Fall 2021 students, came back for a fully hands-on, enthusiastic and immersive intership program this Summer 2022. Enjoy reading about his experience!
---
After spending my fall 2021 semester here in Perugia, I was craving more and hoped that my experience in Italy would not end when my classes were complete. Thanks to the kind Umbra Institute staff, I was able to secure a Sales and Marketing internship at Terre Margaritelli, an organic winery located in Miralduolo, which is part of the municipality of Torgiano in the heart of Umbria.

Even before I arrived this summer, I knew this would be so much more than just a traditional "sales and marketing" internship, given a conversation I had with the winery's manager Federico. He made it very clear that I wouldn't just be making photocopies or doing menial tasks, but rather I would be part of the team. I came to that realization in my very first week of work, during "Cantine Aperte" (an event in Italy in which the region's wineries open their doors to the public and hundreds come to taste wine, listen to good music, eat good food, and enjoy the scenery and atmosphere). I was able to be behind the scenes to witness and assist with the planning that goes into an event like this. If I had to guess I'd say I opened one hundred bottles of wine and poured hundreds of glasses!
After that crazy first week I was able to see what a more normal daily operation at the winery would look like. The best part was being able to participate in all of it: I assisted with hosting groups of tourists from all over the world (including Italian and American wine journalists), and planning a wedding party from the UK and Canada. I also helped translating some of the winery's website content to English.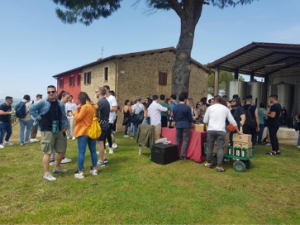 Another of my favorite experiences was participating in a multiple day bottling process. A large truck was brought in where bottles were put in at one end and the truck spit them out at the other completely corked, labeled, and filled with wine. I spent my time helping to load the bottles onto pallets, which turned out to be a high stress part as you needed to keep up with what seemed like a never ending stream of bottles flowing
out of the machine. Here I was able to meet and talk with some of the other employees of the winery who I would not otherwise have the chance to meet.
Looking back at all that I learned and experienced as a summer intern at Terre Margaritelli, what I am most thankful for are the people I was able to meet and establish friendships. I really felt like part of the team and I felt that way on the first day I arrived. Going to work with Margherita in the morning or having Andrea pick me up from the train station, I was able to laugh and joke and become friends. I also was able to practice my Italian more than I ever had the chance before. I was even able to attend the Festa dei Ceri in Gubbio with the enologist Enrico who invited me to stay with him and his parents for two nights. That was an experience I will not soon forget. They made me feel at home and I cannot wait to be able to catch up with all of them once I return to Italy.