Umbra App Quick Facts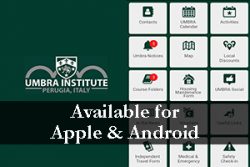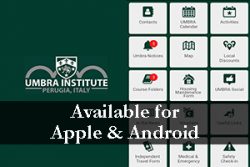 WELCOME TO THE UMBRA APP!
Use the App to get in touch with faculty, Umbra staff, and fellow students. View upcoming events, check out local maps and discounts, share photos of your adventures, and more! Below are a few of our favorite features:
Maps
Whether in Perugia or beyond (i.e., Florence, Rome, Spoleto, etc.), check out some the restaurants, cafés, shops, and more that were suggested by staff and previous students.
Local Discounts
Did you know that you get special discounts in Perugia, including at gyms, stores and shops, restaurants, hotels, and much more?! If not, this is a great feature to view. Remember to bring your
Student I.D. card if you're looking to take advantage of these deals.
Independent Travel Form
Complete an Independent Travel Form on the App. For those of you in a hurry, you can also take a photo of your tickets and/or itinerary.
NOTE: Independent Travel Forms can also be completed online at www.umbra.org/currentstudents/independent-travel-form/; or you can fill out a paper copy in the Student Services office.
Medical and Emergency
Find emergency numbers, including the Umbra Emergency Phone and Italian ambulance under the "Emergency" tab. Locations and phone numbers of local pharmacies and the Guarda Medica, a health service available overnight, are listed under the "Health" tab.
Safety Check-in
In case of an unfortunate event in Europe, the staff will send out a Safety Check-in alert. The alert will ask you to select "I'm Safe" if you are okay, or "Request Assistance" if you are affected by, or near, the incident. By selecting either option, you're sending a notification to Umbra staff informing them of your precise location. This notification will then allow them to report your safety back to your home institution.
If you are in need of assistance, we ask that you contact the Umbra Emergency Phone as soon as it is safe to do so in order to provide you with the necessary information to ensure your safety.