Featured Blog Articles
Umbra Blog
Umbra Bonds at Welcome Aperitivo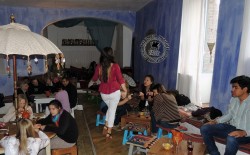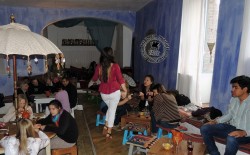 Il Birraio — Italian for brewery — was bustling with Umbra faculty, staff, and students at last night's Welcome Aperitivo.
Sitting on plush cushions or under exotic umbrellas, the group enjoyed refreshments while trading plans for the summer semester. 
The aperitivo was a success, according to Umbra staff member Marco Bagli, who organizes student events.
"It was the real first time when students and visiting faculty members could meet after they had already settled into their apartments," Bagli said. "They could get to know each other in a less serious situation and meet the staff when we're wearing 'other hats.'"
Students enrolled in Elementary Italian will return to il Birraio tonight for the very first Tandem, a language exchange with local Italians, at 7:30 p.m.