Intensive Italian Program Comincia con un Bang!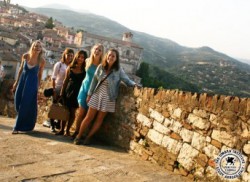 Intensive Italian students arrived at Rome Fiumicino Airport Friday, beginning the intensive six-week immersion program.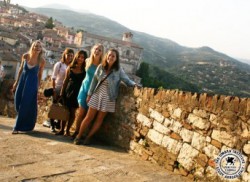 After an evening at Perugia Hotel Giò, students moved into their apartments on Saturday morning. That afternoon, they took Italian placement exams and attended a mandatory safety and academic information meeting. Sunday, students went on a practical walking tour of the city center, learning where to buy groceries on a Sunday, send mail, and go to class. 
The goal of the language program is to practice as much Italian as possible through language instruction, exercises, and conversation. In addition to classes at the Umbra Institute, students will participate in language exchanges, cinema nights, museum visits, and more.