Education
Food & Sustainability
Umbra Blog
Umbra Food Studies Professors Participate in International Conference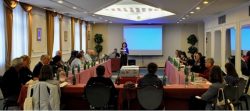 On March 9th and 10th, Dr. Elisa Ascione, Coordinator of the Umbra Institute's Food & Sustainability Program (FSSP), facilitated the Food, Heritage & Community Conference in Prague, Czech Republic. The goal of the conference, sponsored by Progressive Connexions, was "to explore how food is perceived, constructed, celebrated and resisted as cultural heritage at personal, regional, national and global levels." As the event leader, Dr. Ascione reviewed submissions and created a truly international program that included presentations by professors, activists, and independent scholars with over fifteen different nationalities. The range of topics covered by specific sessions—including Food and Migration; Food, Health and the Life Cycle; Representing Kitchens, Memories, and Identities; and Redefining Heritage and Sustainability—demonstrates the interdisciplinary breadth of the conference. At the end of the conference, participants agreed that it was an intellectually stimulating and professionally gratifying experience.
Among the presenters was Dr. Peter Naccarato, Interim Program Director at the Umbra Institute and Professor of English & World Literatures at Marymount Manhattan College. Dr. Naccarato, presented his paper, "Brooklyn Goes Global: When Local Culinary Culture Becomes a Global Phenomenon." He explained that this paper was part of a chapter that he and his co-author, Dr. Katie LeBesco, are writing for a forthcoming book on "Global Brooklyn." The goal of the book is to understand how and why a set of objects, designs, interior decorating, architecture and other practices have traveled from cafes and restaurants in Brooklyn, New York to cities across the world. For their chapter, Dr. Naccarato and Dr. LeBesco are exploring the differences between the actual New York City borough of Brooklyn and the imagined space called "Global Brooklyn." They consider Brooklyn's place in the cultural imaginary: Who does and who doesn't inhabit Global Brooklyn? How do Global Brooklyn's aesthetic and culinary practices interface with working class and immigrant people who have been displaced within the borough and who have distinctly different eating and drinking practices? What does this mean for the imagined version of Brooklyn that is translated around the world, and how does it impact those who inhabit the "real" physical place?
Asked about his experience at this conference, Dr. Naccarato said that he found it to be "a very engaging conference where he met many people doing creative and thought-provoking work in food studies." He was especially enthusiastic about the "international breadth and disciplinary range of the presenters," which he feels "underscores one of the best attributes of food studies." Dr. Ascione echoed these sentiments, saying that she "was inspired by the scope of topics and themes that emerged from the presentations," and that the exchange of ideas and research topics has been an enriching experience, professionally as well as personally.
For more information about the Food & Sustainability Studies Program, click here.