Umbra Professor Dr. Adrian S. Hoch Publishes Article on a Past Queen of Naples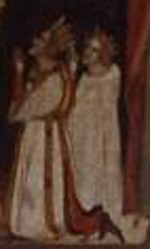 Umbra Professor Dr. Adrian S. Hoch has published her article, "Beyond Spirital Maternity: An Addendum to the Iconography of Sancia of Majorca," in the book La chiesa e il convento di Santa Chiara: committenza artistica, vita religiosa, e progettualita' politica nella Napoli di Roberto d'Angio' e Sancia di Maiorca, edited by Francesco Aceto, Stefano D'Ovidio, and Elisabetta Scirocco (2014).
The early 14th century Queen of Naples, Sancia, is often considered a frustrated woman because she lacked children.  Yet she and her husband, King Robert, did have a son who died very young.  Written and visual evidence compiled by Dr. Hoch confirms the existence of "principino Roberto" ("little prince Robert") visible on the front of his father's tomb (which was heavily damaged in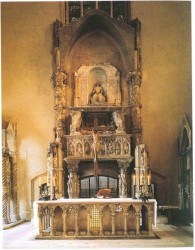 World War II) in Santa Chiara Church in Naples.  The infant prince's inclusion dramatically revises ideas about Queen Sancia as well as the dynastic succession of the royal House of Anjou.
Congratulations Dr. Hoch!  For more information and to purchase a copy of the book click here.