Umbra Professor Publishes Book on Perugia History
Want to know who the residents of Pig Street were? Curious why Perugians fought only other Perugians in the meadow known as the "battlefield?" In 1504 a "flying machine" was launched off the Danti Palace roof — was it successful?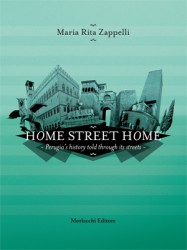 Drawing on his experience creating the beloved Nooks and Crannies Tour, Umbra Institute Food Studies Professor Zachary Nowak edited Home Street Home: Perugia's History Told Through Its Streets. The book, an alphabetical list of all of Perugia's streets, alleys, and piazzas, is a charming voyage through 23 centuries of social history. Morlacchi Editore published Home Street Home, which hit stands today.
Home Street Home avoids the typical "great-men-building-great-buildings-and-fighting history," Nowak explained, by telling the story of Perugia through its streets.
Originally published in 1999, the book was written by Perugian author Maria Rita Zapelli. Nowak was drawn to the book early on in his 12-year sojourn in Perugia and began the project of publishing an English-language version in 2007.
"This book made me fall in love with Perugia, and I knew I had to finish it before I left," Nowak said.

A staff member since 2005, Nowak began teaching at Umbra in 2010, and the translation project went on the back burner. When he was admitted to a doctoral program at Harvard University, he decided to finish the book before leaving Perugia, his home for more than a decade.
"It's my parting gift to a city that hosted me as a 'temporary citizen' for years and where I had some of the best years of my life so far," Nowak said. "What makes me happy, too, is that I'm not leaving permanently: Maybe I can use the book in a future summer course at Umbra."
Already available on the shelves of Libreria Morlacchi, Home Street Home will soon be available on Amazon.com. Free previews of selected streets are available on the In Perugia website. The book was translated by Deborah Rim Moiso and Alan Whykes, and Matteo Brustenghi designed  cover. All are long-time collaborators of Nowak, who ran a small publishing company, Green Door, known for its guide to Perugia, "The Little Blue What To Do."