Umbra Program Director Leaves Legacy on Academic Program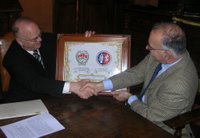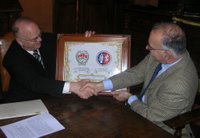 Faculty and staff members gathered last weekend to honor Dr. Charles Jarvis, Program Director of the Umbra Institute, who will be retiring later this month after nearly two years at the Umbra Institute.
Dr. Jarvis was influential in maintaining the academic excellence of the Institute while developing new initiatives. His primary duties as chief academic officer included directing the faculty, coordinating with US colleges and universities, representing the Institute to professional affiliates, and serving as a liaison with city government and other cultural insitutions within Perugia. "Dr. Jarvis has been an inspiration for professors and students and greatly improved the academic program at Umbra," said Philippa Stannard, professor of fine arts.
During Jarvis's tenure, eight additional courses were added to the curriculum and ten Ph.D. professors were hired to join the faculty. He oversaw the inauguration of an additional learning center, the increase in library and academic resources, and the addition of on-site learning excursions to the curriculum.
This fall, the Umbra Institute will offer an Honors Program, Field Reseach Seminar, and a Full Immersion option in addition to the General Studies Program. Although Dr. Jarvis will not be present to witness these changes, he was instrumental in their formation.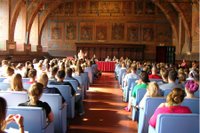 This spring, Dr. Jarvis signed an historic agreement with the University of Perugia. This relationship allows Umbra students to attend courses taught in Italian within the European educational tradition. The agreement will additionally allow Italian students to take courses with American students at The Umbra Institute. Dr. Jarvis also crafted agreements with the Comune di Perugia and the Ranieri di Sorbello Foundation to improve cultural interaction for students in Perugia.
Dr. Jarvis will leave for the United States later this month, but may return in the future as a professor at the Umbra Institute. "I love Italy and Umbra, and I have been energized in a very positive way in working with such a fine group of people," said Jarvis.
Before arriving at the Umbra Institute in January 2005, Jarvis had been Professor of History at Dickinson College in Carlisle, Pennsylvania. He was a three-time director of Dickinson's Center for European Study in Bologna, Italy, and also taught abroad in Malaga, Spain. Jarvis received his B.A. from DePauw University and was later awarded with his M.A. and Ph.D. from the University of Missouri-Columbia.
In photos: Dr. Charles Jarvis signs an historic agreement with the University of Perugia in March 2006; Dr. Jarvis addresses the Spring 2006 student body at orientation.