Umbra Student Organizes Intercultural Potluck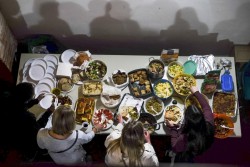 Perugia is not just a city of Italians, but a community of people from all over the world. Current Umbra student Ethan Fichtner, an Arizona State University student, received a taste of Perugia's diversity this semester as a volunteer English teaching assistant at the Ramus Oleae Immigration Center.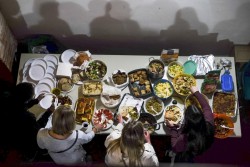 Wanting to further connect the Umbra student community with the immigrant population at the Center, Ethan thought a potluck dinner would be the perfect idea. "The semester was ending, and myself along with two other Umbra students had been volunteering all semester. Food is such an expression of culture, especially in Italy, and through a potluck we could invite the immigrants along with our students to taste one another's culture. Our 'cultural currency' in this case was food."
Last week, Ethan advertised the event at Umbra. The response exceeded all expectations – almost 30 Umbra students and faculty attended the dinner last Friday night, each sharing a favorite dish. They were joined by 15 students from the center, hailing from a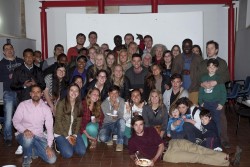 variety of countries and backgrounds.
The Director of the Center was thrilled with the turnout, and believes such events are valuable for both populations. "To me, this is the way to have intercultural experiences. I think it really opens up new ideas and exposes students to the realities of immigration in the 21st century. It also helps to break down preconceived notions on both sides."
Umbra would like to thank Ramus Oleae Centro Immigrazione for hosting the event, and Ethan for pioneering its initiation!
This was part of the service learning activities associated to the course: PSEU 340 – Politics and Economics of the European Union