Urban Spaces of Perugia: Umbra Students Renovate the Terrace of Via del Cortone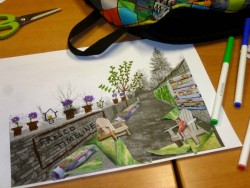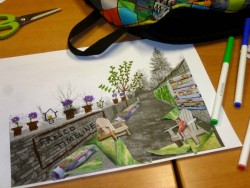 Urban Spaces students have dedicated their semester to constructing a new space for locals to enjoy on a terrace along Via del Cortone, located in the Borgo Bello district of Perugia's historic center. The plans for this community-oriented space follow the design strategy of "place making", a particularly innovative approach that involves designing a public space according to direct input from locals who live and work in that space. In order to approach the project from the "place making" perspective, students conducted multiple meetings in the district of Borgo Bello, where their terrace project will be completed, in order to understand exactly how to match their space planning to the communal idea and the culture of the district.
After studying multiple "place making" methods under Professor Ray Lorenzo and Assistant Instructor Viviana Lorenzo, students began to elaborate their plans for an open space featuring gardens, comfortable hand-made chairs and a fresco timeline; all aiming to promote and emphasize a community oriented environment in view of the panoramic landscape of Perugia, as seen from the terrace.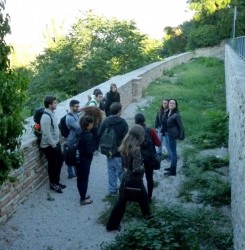 Now that this semester's planning project is complete, students plan to inaugurate their new "urban space" with a special celebration, featuring bruschetta and wine, to take place on the terrace on December 9th. In preparation, students took to the streets of Borgo Bello to form a flash mob in promotion of the event. Under the holiday lights, urban spacers sang Christmas carols as they invited passersby to sit in the newly created chairs and to hear about how those same chairs will be found on the terrace of Via del Cortone.
To read more about this semester's Urban Spaces initiative, read A Living Room with a View in Borgo Bello, an article written for the local Luoghi Comuni magazine by three Umbra students, Stefanie Buffa, Demiana Khoury, and Massimiliano Giannangeli.