Urban Trekking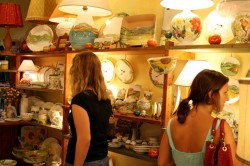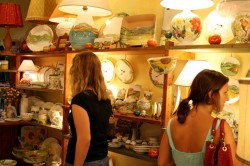 For a walk back into the Middle Ages in Perugia, it turns out you don't even have to go outside the city walls. On this bright Friday morning Altra Umbria tour guide Daniela led a group of Umbra students on a tour whose path was set by the locations of artisans who still make their living with medieval trades. The first stop was a ceramics store just up the street, where the owner carries on the proud tradition of Umbrian majolica pottery. Next up was a bookbindery which, except for the gas stove used to heat up the embossing dye, had tools which could have been used eight hundred years ago. Students watched as the owner and master bookbinder created a small leather journal from pages sown together by hand and a calfskin cover.
The trek continued over the twelfth-century aqueduct to the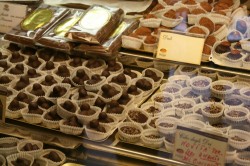 deconsecrated church of Saint Francis of the Women, so-called because it belonged to the Benedictine sisters. Here, inside the church, an eighty year-old company handed down from mother to daughter makes Perugian-style sheets and tablecloths from cotton, linen, and Damascus silk. Students were shown looms from 1836 with which the craftspeople could make only 50cm of cloth a day. The trek ended up at a surprise location, the Augusta Perusia cioccolatteria, where the owners make their own chocolate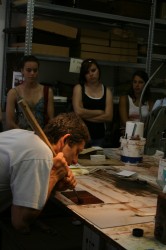 from the raw cacao, one of only nine ciocolatterie in Italy who do so. Students learned some of the steps in chocolate-making and were able to sample delicious white, dark, and milk chocolate.
The Urban Trekking is one of several planned offerings and is another aspect of Umbra's integrated curriculum and extracurricular activities.