What it Means to Build a Community in Italy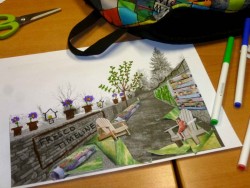 Studying abroad in Italy means becoming a part of the local community and cultivating an intercultural connection with locals. For this reason, contributing to the evolution of the local community through the conversion of urban spaces into friendly, inclusive communities is the goal of the Umbra Institute's ESUS 310: Placemaking: Creating Sustainable Urban Spaces and Communities.
This semester, students participating in ESUS 310, also known as Urban Spaces, are continuing a complex project that previous Umbra students started in Perugia's Borgo Bello district. The overall goal is to transform forgotten corners of the community into lively areas that can be used, year-round, for various neighborhood needs. As a continuation of this project, students are currently focusing on the renovation of a terrace that is located on Via del Cortone. Students will use the next few months to:
work on community fundraising initiatives;

Students explore San Domenico church for a view of the Borgo Bello district they will be working with this semester

collaborate with Umbra students from the ARFP 210: Fresco Painting course who will liven up the terrace by creating a vibrant afresco;
continue to build strong alliances with major actors within the Borgo Bello district, from inhabitants to theater owners; and
collaborate with Perugia's administrative and political offices, such as that of the Mayor, to gain confirmation of the future logistical process for project completion.
This project is designed to give students a well-rounded experience in the world of Placemaking, a novelty design strategy that bases the design of public space on input provided directly by locals who live and work in that space.
Spring 2016 Urban Spaces' students are currently dedicating their time to better understand the community they will be working in through scheduled meetings with representatives from the Borgo Bello community, as well as through historic and cultural tours throughout community landmarks, such as the impressive San Domenico church that rests only a short distance from the Terrace on Via del Cortone.
Read more about previous project accomplishments and future goals.