Umbra Student Tackles International and Comparative Education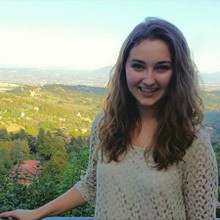 Sarah Fuller, a student in Early Childhood and Special Education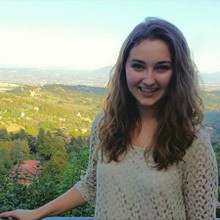 as well as International Studies from Elizabethtown College, chose to attend the Umbra Institute during the Fall 2015 semester to complete a self-directed research project. Sarah's research is to be used for a thesis project relative to her interest in international special education policy as Sarah says that her dream is "to ensure that all children, regardless of disability, have access to inclusive education".
During her semester at Umbra, Sarah completed a qualitative case-study which she designed before her arrival. In collaboration with Dr. Christian Tarchi, Umbra professor in Education Studies, Sarah was able to conduct interviews of Perugia's education community, including staff of the regional Office of Education, professors who work in teacher formation both in Perugia and in Florence, and other experienced educators. Throughout her time at Umbra, her goal was to learn how laws and culture interact to support inclusive education.
Sarah Fuller's plans for the future include presenting her thesis project at education conferences and seeking further applications for her research. She plans to further develop her interest in international special education policy by pursuing graduate studies in International and Comparative Education and a career in research, advocacy, or work with an NGO.
To aid Sarah in her research, Prof. Tarchi gave her three assignments all with the aim of targeting her research design, method, and data in search of a comprehensive pattern that focused on results with practical implications. Prof. Tarchi noted that what stood out most about Sarah was that "she made every effort possible to find a key or a solution to the problem she was studying so that her study could bring some contribution, rather than being just a mere theoretical exercise".
The Umbra Institute is proud of its research and independent study offerings for students who hold special academic interests while abroad. Research offerings include ISIR 499: Advanced Research Project and ISRM 400: Research Writing & Methodology.
For more information about research options and education coursework at Umbra, contact Umbra's Academic Director, Francesco Burzacca, at [email protected].